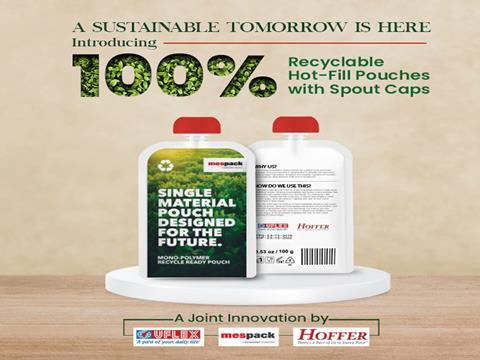 UFlex, Mespack and Hoffer Plastics have worked together on a turnkey solution that the group says will "address the issue of full recyclability" of hot-fill pouches for the ready-to-eat food segment, using a mono-polymer structure and spout cap.
The new Recycle Ready Single Material PP-based Hot-fill Pouch design incorporates an OPP and CPP layered laminate structure designed for UFlex. This apparently offers "enhanced" barrier properties, heat seal-ability, and longer shelf life for unrefrigerated food storage.
According to Luc Verhaak, vice president of sales at UFlex Packaging: "With our future-ready approach that focusses on circular driven packaging, we are trying to offer products that widen our sustainable footprint in the ecosystem.
"Designing with mono-materials, like with this recycle-ready PP hot-fill spouted pouch, creates value for the recycling industry and helps in the development of a better recycling infrastructure."
In addition, the new pouch is sealed with Hoffer Plastics' patented closures. These are tamper-evident, strong seal spout caps.
Alex Hoffer, chief revenue officer at Hoffer Plastics Corporation, says: "Now more than ever, creating products that are fully recyclable and circularly designed from the onset are not just in demand, but will shape the future of our industry and the environment."
Mespack helped to produce the pouch using its HF-series fill and seal machine, which it says contributes and allows efficient filling through the spout of pre-made pouches. It adds that by using the HF-series' continuous spout filling, the wave effect is eliminated and up to 15% of the headspace is reduced.
Guillem Clofent, managing director of Mespack, adds that the company follows "three main strategies: reduce usage of raw materials, replace them with more recyclable solutions, and adapt our technology to these new recyclable, biodegradable or compostable materials."
The group claims that the new design offers "100% recyclability" of the laminate and spout cap within existing PP recycling streams and infrastructure.
Going forward, the pouch will be manufactured at UFlex's India plant and exported to American markets, mainly for use in packaging edible products like baby food, food puree, and pet food.
The Recycle Ready Hot-fill Pouch will also be on display at Pack Expo 2021, running from the 27th to the 29th of September in Las Vegas, USA. Following the exhibition, the pouches will then be available for sale.