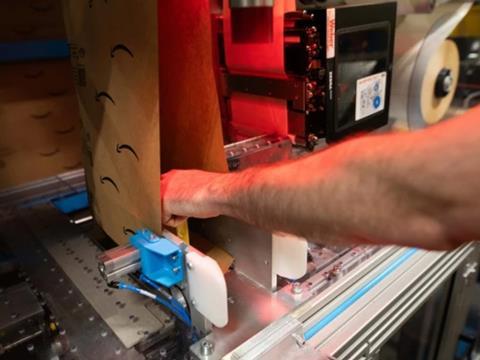 Amazon is trialling automated packaging machines for on-demand, made-to-measure paper bags that seek to cut down on pack volume and weight – thus reducing carbon emissions during delivery.
These machines scan products with a built-in sensor, cut a bag from rolls of paper in real-time, and heat-seal them with no glue required. As such, they are designed to minimize empty space and save resources while packaging items quickly and accurately.
Apparently, the bags are completely recyclable and up to 90% lighter than cardboard boxes of a similar size. To ensure that each bag fits the specific product and does not require additional padding, it is created at the time of packing – a process expected to avoid over 26 grams of packaging per shipment on average.
These lighter shipments are expected to lower delivery emissions per package and bring the company closer to its 2040 target of net-zero carbon.
As it is trialled in Europe and the United States, Amazon hopes that the new technology – a redesign of existing but decommissioned machinery made for single-use plastic delivery bags – will decrease the amount of packaging material it uses across its European operations.
It will be applied to products like kitchenware, video games, sports equipment, and office supplies, with the first machines already operating in fulfilment centres in Mönchengladbach, Germany, and Bristol, England.
"We are constantly innovating, testing and learning when it comes to packaging solutions for our customers", said Thais Blumer, head of Sustainable Packaging for Amazon, Europe. "Our trials already show that this technology is efficient, secure and reliable.
"Our material scientists developed a light but durable paper which stretches, is more weather resistant than regular paper, and can be heat-sealed like plastic – but it's all easily recyclable in your household collections."
Looking forward, Amazon anticipates that its automated machinery will pack multiple items in strong paper or cardboard packaging, utilizing minimal air space and ensuring product protection in transit.
Transitioning into lightweight packaging wherever possible and matching products to the most efficient and protective packaging solution via machine learning algorithms fall under Amazon's packaging sustainability strategy.
A company spokesperson made an exclusive statement to Packaging Europe in relation to the Packaging and Packaging Waste Directive revisions, claiming that, "when packaging is required, we optimise with lighter, right-sized packaging to reduce waste and carbon, while ensuring products arrive safely. In 2021, we reduced average plastic packaging weight per shipment by more than 7%."
In other news, Walmart is utilizing technologies from KNAPP and Packsize to right-size cartons at its distribution facilities. The move is said to have halved its use of filler material and reduced its cardboard waste.
If you liked this article, you might also enjoy:
The L'Oréal approach to packaging sustainability
What steps is Apple taking to make its packaging more sustainable?
How did Brazil achieve its 100% aluminium can recycling rate – and can it be replicated in the EU?
Experts have their say on the EU's Packaging and Packaging Waste Directive revisions
Also, if you're interested in packaging sustainability, you will want to attend our Sustainable Packaging Summit in Amsterdam on 14-15 November. The Summit brings together leaders and pioneers from across the industry to align strategically, learn, network, and create a critical mass to accelerate change. You can learn more by clicking here, and you can buy a ticket to attend here.