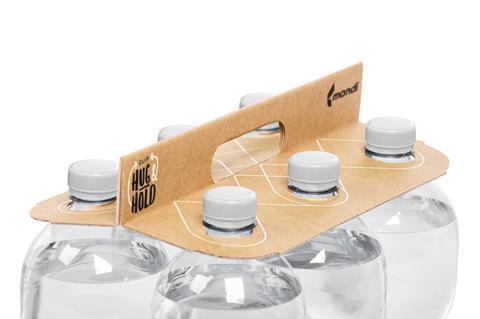 Hug&Hold by Mondi is a 100% paper-based solution that has been designed to act as an alternative to plastic shrink wrap, with a primary focus on bundling PET bottles. Tarik Aniba, Sales & Marketing Director at Mondi Corrugated Solutions, tells us more about the drivers behind the development of the solution, the biggest challenges that were encountered during the R&D process, and how it compares to alternatives from a functionality point-of-view.
Simply put: what is the Hug&Hold packaging solution? What does it do, and what are its key functionalities?
Hug&Hold is a recyclable 100% paper-based solution designed and developed to bundle and transport PET beverage bottles, replacing plastic shrink wrap. Hug&Hold comprises two elements that provide secure and safe transportation as well as stacking bundles of bottled drinks. The first element is a patent-pending sleeve made of 100% kraft paper that wraps around the bottles to hold them securely.
Made from Advantage SpringPack Plus, it offers high tensile strength and can withstand enough weight to strap and stabilise the bottles during transportation. The second element is a corrugated clip that holds the bottles around the neck. An integrated handle makes carrying and transporting a bundle of bottles easy. Simple separation of single bottles from the pack by the consumer or retail staff adds to the convenience of the design.
What market conditions motivated Mondi to create the solution?
The evolution of secondary transport packaging is just what the global drinks industry needs as it looks to the future. Hug&Hold is perfect for FMCG brands and beverage producers, who want more sustainable packaging solutions that appeal to consumers and meet their product protection needs.
A functional alternative to plastic shrink wrap, which has been tested and confirmed in the fully automated process, means that brand owners can safely switch to the recyclable paper-based packaging solution. With Hug&Hold, Mondi is the first to manufacture and offer customers a complete concept, providing a strong and stable solution that is made from renewable and fully recyclable materials, suitable for existing paper waste streams throughout Europe.
What were the key R&D challenges that were encountered during the creation of the innovation?
The team worked with Krones, a global acting specialist in packaging automation technology, to ensure that Hug&Hold can pack bottles in a fully automated process with the latest Krones machines. Leveraging Mondi's team of kraft paper and corrugated specialists, we were able to develop a fully paper-based solution with minimal material usage. Following thorough testing with Krones and a global beverage brand, Hug&Hold has been confirmed in terms of runnability and viability.
Are there any key functionality and performance differences between this solution and conventional alternatives? How is it compromised by spillages/wet weather, for example?
The Hug&Hold solution is the only complete paper-based sleeve and handle concept on the market, which enables full quality control along the entire value chain for the customer. Compared to plastic shrink wrap alternatives, the solution is plastic-free. It is also fully recyclable in paper streams. It is a complete system yet still compatible with other pack combinations like trays.
In terms of strength, the paper sleeve is made from Advantage SpringPack Plus, Mondi's strongest paper grade which can support the weight of the bottles during both filling and transport. The clip is made from durable corrugated board that is strong and convenient to carry. Brand managers are embracing the transition to a new sustainable feel of the packaging and printing on brown paper. Mondi supports brand managers in this transition and can advise on the best options to create an optimally integrated brand appearance on the clip and sleeve.