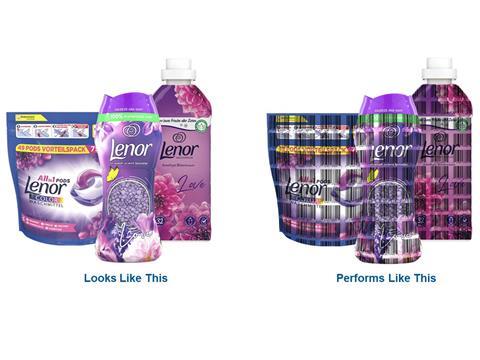 Procter and Gamble's Lenor brand recently announced two important sustainability updates. It has transitioned away from opaque bottles to shrink-sleeved transparent ones, and integrated digital watermaking in a bid to simplify the sorting and recycling process.
To get the inside story on these updates, we caught up with Gian de Belder, technical director of R&D packaging sustainability at Procter & Gamble.
P&G's Lenor brand has unveiled two new packaging innovations. To start us off, could you tell us about the first one?
Our first innovation is the launch of shrink-sleeved PET bottles that we started using in our Lenor Fabric Enhancer bottle across Germany, Switzerland and Austria. Our aim is to make our Lenor bottles fully recyclable, and we had already achieved this goal with transparent bottles. When it comes to coloured bottles, they are more difficult to recycle.
We upgraded our coloured bottles to transparent 100% rPET bottles with a beautiful sensorial shrink-sleeve label to deliver product information. For total compliance with the requirements of the European PET Bottle Platform (EPBP) recyclability guidelines, our bottles have standard double perforation and consumer messaging (aligned to the A.I.S.E guidance and icon) to enable easy removal of the sleeve before disposal.
In case a consumer would forget to remove the sleeve, we made use of floatable sleeves to facilitate waste sorting in recycling centers and used non-bleeding inks to ensure no contamination of existing PET recycling steams. To further educate consumers on sleeve removal, we also deployed a 'how to recycle' tutorial video on YouTube and Lenor branded websites.
We also launched our first formula with plant-based softness to improve the sustainability profile of our ingredients. According to the Life Cycle Assessment for Fabric Enhancers, raw materials, and packaging account for a major part of the total carbon footprint per wash.
This science-based knowledge has driven our decision to focus on improving the sustainability profile of our formula on top of packaging. Using a combination of carefully selected plant-based oils with low carbon footprint and a revolutionary freshness release technology, our full Lenor liquid fabric enhancers will now offer its best-ever freshness with plant-based softness with a reduced impact on the environment.
What makes this first innovation exciting or innovative from a sustainability and functionality point of view?
Transitioning our Lenor opaque bottles to shrink-sleeved transparent bottles enables Lenor Fabric Enhancers packaging to be fully recyclable. The full lineup is also made with 100% recycled plastic bottle. On a yearly basis, this packaging change will help save around 850 tons of virgin plastic and make around 1,700 tons of plastic recyclable, significantly increasing Lenor's circularity index.
Now onto the second innovation – could you let us know more about it?
We are also pioneering a new technology making our packages intelligent by integrating Digital Watermarks, as part of the Holygrail 2.0 initiative, driven by AIM – European Brands Association, powered by the Alliance to End Plastic Waste – a collaborative effort designed to solve one of the largest obstacles facing plastic recycling: inefficient sorting and recycling at recycling facilities.
Digital Watermarks are tiny imperceptible codes that are invisibly embedded onto our labels to make the smart enough to inform the automatic sorting equipment how it should be sorted and recycled. This is a step forward to a future where packaging no longer becomes waste.
In October 2020, Lenor was the first P&G brand to commercialize Digital Watermarks on some of its packages. Today, the technology is embedded on all the sleeved Liquid Fabric Enhancers, Beads and Laundry Detergent Capsule bags sold in Germany, Switzerland and Austria.
Likewise, what makes this one exciting in terms of the sustainability and functionality improvements it offers?
Making our packages "smart" with digital watermarks opens a wide range of possibilities as the coding can be used during the full life cycle of the package, including End-of-Life, e.g. sorting and recycling.
Today, full-body shrink-sleeved bottles can create a challenge during the sorting step if the sleeve is not removed. First and foremost, to make sure that this is not the case, we put a strong emphasis on educating consumers to remove the sleeves. By making the sleeves floatable and with double perforation, we ensure they are as easy as possible to separate from PET bottles.
In case the sleeves are not removed, by using digital watermarks, the sort unit has access to all detailed information of the package and hence can do a more informed decision on where to sort the material. In short, the use of digital watermarks is expected to sort waste more accurately than today's processes, which should result in higher bale quality and overall throughput for circularity. Lenor is the biggest contributor to the industrial-scale testing of this technology.
In general, these two innovations (perforated floatable sleeve with consumer messaging and Digital Watermarks) should enable better recycling of these bottles, leading to much higher quantities of PCR in the market, and improving bale quality. It is logical the more plastic that is recycled today, the higher the supply of PCR for the future.
Did any major technical challenges have to be overcome during the R&D processes behind these two innovations?
For the floatable sleeve, the main challenge has been the reduced shrink ratio vs standard sleeve materials commonly used in the market. Floatable sleeves provide more challenges to cover our exotic shapes (typically our shapes are not round), and this is where most of the development work was required to ensure the same look as previous opaque bottles. The new sleeve composition requires very detailed process adjustments to guarantee no bottle deformation and re-direct the energy to targeted areas.
Due to new sleeve tearing proprieties, we optimized double perforation design by perforation dimensions to enable an easy sleeve removal by the consumer.
To follow EPBP guidelines, floatable sleeves come with non-bleeding inks, so wash water at recyclers does not get contaminated with inks. The technical challenge was to develop non-bleeding inks (not very common on the market) that are product resistant to ensure no artwork deterioration in case product is spilled during filling operation and consumer usage.
For HolyGrail, the trick is to have enough readable codes on the package in a waste environment, whereas we want to minimize the impact on aesthetics for consumers. So generally speaking, both innovations had to be implemented in a seamless way (imperceptible to a consumer), whereas they enable a world of difference in terms of achieving circular economies!
How do these innovations fit into P&G's overall sustainability strategy?
Our brands reach five billion people around the world, and with this scale comes a responsibility to continue innovating for our products to help save energy, water and natural resources when used. Our 2030 targets include fully recyclable or reusable consumer packaging as well as reducing our virgin petroleum-based plastic by 50%.
We design for recyclability and circularity and at the same time experiment and adopt innovative technologies to accelerate progress in this area. We are proud to implement the Perforated Shrink Sleeve technology as well as pioneer the application of the Holy Grail 2.0 initiative on our Unstoppables and Lenor beads since October 2020.