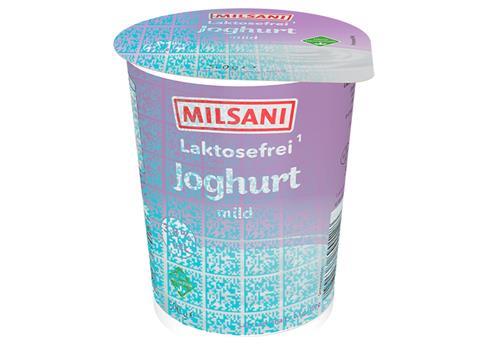 In the third phase of the HolyGrail 2.0 initiative, Aldi Nord and the Aldi South Group are implementing watermark technology into their packaging; this is hoped to improve sorting in waste facilities and optimise recycling in pursuit of circularity.
Digimarc and Wipak have partnered with both retail groups to print invisible codes onto the surface of their packaging; these are set to be detected and decoded by a high-resolution camera on a recycling facility's sorting line, where they will be separated by material and sent to the corresponding stream.
The trial falls in line with the upcoming testing phase of the HolyGrail 2.0 initiative, which is testing the feasibility and economic viability of digital watermarking as an intelligent, sustainability-minded sorting solution. It is driven by AIM-European Brands Associations and powered by the Alliance to End Plastic Waste.
Eighteen different MILSANI kefir and yoghurt flavours have received the new watermark technology under Greiner and Aldi's suppliers, and the products are currently available on the German market.
Aldi's International Packaging Goals aspire for digital transformation and collaboration, the company says. It expresses its support for trialling innovative solutions in the packaging industry's journey towards a circular economy.
HolyGrail 2.0 entered its testing stage at the beginning of the year, with three French and German facilities set to test the digital watermarking sorting process for detection, ejection, purity, and more. Since then, it has apparently been successful in the separation of food and non-food PET packaging waste streams in an industrial environment.
Meanwhile, Aldi Süd and Nord have developed a box made 'almost entirely' from recycled plastic packaging waste from Germany's yellow bag or bin for their TANDIL 3-in-1 laundry detergent. The new pack expects to save approximately 60 tons of new plastic and reduce material usage in private label packaging by 30% compared to 2015 and relative sales.
If you liked this article, you might also enjoy:
The L'Oréal approach to packaging sustainability
What steps is Apple taking to make its packaging more sustainable?
How did Brazil achieve its 100% aluminium can recycling rate – and can it be replicated in the EU?
Experts have their say on the EU's Packaging and Packaging Waste Directive revisions