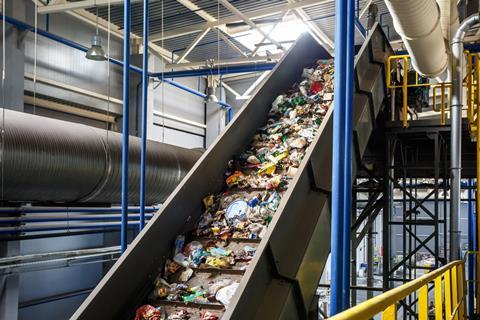 INEOS Olefins and Polymers Europe has joined the digital watermarking initiative HolyGrail 2.0, which is seeking to improve the sorting and recycling of plastic packaging waste.
The initiative aims to address and improve how plastic waste is sorted into different types, making the recycling of household plastic waste far more efficient. Although plastic packaging collection rates are improving across Europe, challenges in sorting mean that recycled plastics are often a mix of types and grades, making the recycled product difficult for plastics converters to re-use.
HolyGrail 2.0. uses digital watermarks – imperceptible codes which cover the surface of the packaging. They are around the size of a postage stamp, imperceptible to the human eye, but detectable by special cameras linked to high-speed waste sorting systems.
The initiative hopes to provide the whole packaging value chain with a robust, cost-effective, and easily scalable system to optimise the sorting of post-consumer plastics packaging and improve the quality of the recycled product.
In recent times, INEOS launched its Recycl-IN range of PE and PP products, a portfolio of resins with up to 70% post-consumer recycled content and, according to the company, properties on-par with virgin polymer.
Rob Ingram, CEO of INEOS Olefins and Polymers North, says: "Partnering with HolyGrail 2.0 demonstrates our commitment to taking action across the value chain, to create a more sustainable future. It fits perfectly with the INEOS goal to increase recycling rates and the use of recycled materials back into everyday products. This is an exciting next step on our path to full packaging circularity."
"Plastics are essential to our everyday lives. They keep our food fresh and safe to eat, and help us produce other day-to-day items, like our phones and our televisions. But we recognise and share people's concerns - working together we can make the plastic economy more circular, and help to reduce plastic waste."
Earlier this year, the initiative announced that it had successfully validated the prototype detection unit for digital watermarks, following semi-industrial testing that mimicked real-life conditions. The testing reportedly resulted in a 99% detection rate and the opportunity to develop new, more granular post-consumer recycling streams that do not yet exist.