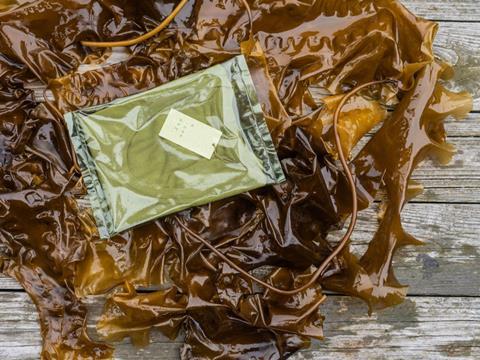 The one-year TOM FORD Plastic Innovation Accelerator programme – powered by Lonely Whale and intending to help bring seaweed-based thin-film alternatives to market – has been announced at the 2023 Sustainable Brands conference.
Thin-film plastic made from fossil fuels is said to constitute nearly half of all new plastic waste entering the ocean every year. They are difficult to recycle and degrade very slowly, leading them to pollute the natural environment and harm wildlife.
Lonely Whale's three-phase, multi-year Unwrap the Future programme was announced in 2020. It was formed to vet and scale replacements to traditional thin-film plastic that are both viable and marine-safe.
Phase one saw the creation of the TOM FORD Plastic Innovation Prize in partnership with Lonely Whale. Sway, Zerocircle, and Notpla were announced as this year's winners at the Green Carpet Fashion Awards in March, and Title Sponsors TOM FORD BEAUTY, the Estée Lauder Companies, and Trousdale Ventures supplied the $1.2 million Prize Purse, a combination cash prize and direct investment.
The TOM FORD Plastic Innovation Accelerator ushers in the second phase and aims to provide the prize winners with access to multifaceted networks, leading insights, and brand collaborators to replace traditional thin-film plastic on a larger scale. It plans to hold monthly seminars and strategic communication workshops using cross-industry expertise and support companies to improve their solutions.
Several members of Lonely Whale's Early Adopter Coalition are now preparing to trial the prize winners' packaging solutions – including The Estée Lauder Companies, which is conducting an internal trial to highlight potential use cases across its TOM FORD BEAUTY range. Lonely Whale acts as the convenor and aims to connect corporations' interest in switching to alternatives with brands' ability to adopt them.
"Over the course of our sustainability journey at The Estée Lauder Companies, we've learned that strategic partnerships and collaborations are essential to helping us reach our goals," said Nancy Mahon, chief sustainability officer at The Estée Lauder Companies. "We are honored to continue our partnership with Lonely Whale to help advance the integration of innovative, seaweed-based packaging materials across the fashion and beauty industries and beyond."
"Unveiling the winners of the TOM FORD Plastic Innovation Prize was merely the first step," said Philip Sarofim, Trousdale Ventures' founder. "It's now essential to expedite capital access for these companies as they expand, replacing detrimental plastics with solutions rooted in nature.
"Innovation remains at the core of our investment ethos, and we're excited to witness the transformative impact these enterprises will usher in, paving the way for a more promising tomorrow by safeguarding the health of our planet."
Lucy Sumner, co-founder of Lonely Whale, added: "I am thoroughly inspired by the ingenuity, dedication and passion shown by the Prize winners, Sway, Zerocircle and Notpla, and the ongoing investment in innovation from our partners at TOM FORD BEAUTY, The Estée Lauder Companies, and Phillip Sarofim's Trousdale Ventures.
"Alongside the Early Adopter Coalition, recently joined by packaging systems leader Atlantic Packaging, these brands are actively demonstrating the type of radical collaboration needed to develop concrete and dynamic solutions that ensure the long-term health and prosperity of our ocean."
Any brands interested in joining the Early Adopter Coalition are encouraged to contact Lonely Whale at hello@lonelywhale.org for more information.
Other seaweed-related developments taking place this year include a grant of over £3 million in seed funding to develop Kelpi's seaweed-based biomaterial coatings for recyclable and home-compostable packaging in the food, drink, and cosmetics sectors.
MACK also hopes to phase PVOH and PVA out of its packaging and cut down on microplastic leakage by implementing Notpla's plant-based, water-soluble film into its refill cleaning product line.
Meanwhile, the second cohort of Avery Dennison's AD Stretch Accelerator Program has selected five start-ups – including Peafowl Plasmonics, Puro Renewables, and BeFC – to tackle roadblocks in the labels and packaging industry's pursuit of connected packaging, materials innovation, and sustainability.
If you liked this article, you might also enjoy:
The L'Oréal approach to packaging sustainability
What steps is Apple taking to make its packaging more sustainable?
How did Brazil achieve its 100% aluminium can recycling rate – and can it be replicated in the EU?
Experts have their say on the EU's Packaging and Packaging Waste Directive revisions
Also, if you're interested in packaging sustainability, you will want to attend our Sustainable Packaging Summit in Amsterdam on 14-15 November. The Summit brings together leaders and pioneers from across the industry to align strategically, learn, network, and create a critical mass to accelerate change. You can learn more by clicking here, and you can buy a ticket to attend here.