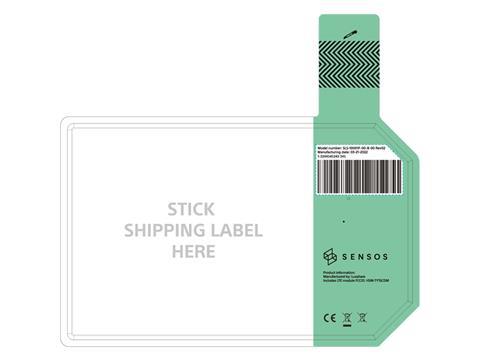 Unilog, an Israel-based technology company with particular expertise in the design and management of global supply chains has introduced Ucontrol™, which it describes as a revolutionary IoT solution that has the potential to change supply chain dynamics.
With Ucontrol™, customers have real-time visibility and control over every aspect of their supply chain, from origin to end consumer, and beyond - till the moment the product opened and used, it says. The company is part of ICL, one of Israel's top logistics companies with branches at all major ports and inland borders.
The Ucontrol™ Sensos label is more than a tracker, it's a complete inventory control solution for maximum efficiency. It dispenses with manual processes and offers automatic replenishment. The label tracks and analyzes events in the supply chain from OEM to DC and from there to consignment stock through automatic replenishment and invoicing, enabling decision-makers to receive real-time data, for 100% inventory control throughout the network, according to Unilog.
It provides single-use "eyes" on shipments till the POD and beyond, giving customers information they need to make informed decisions. Thin, green, and label-like, the Sensos label is an IoT device that does not need to charged or calibrated. In addition, there is no need to manage the return logistics of the device as the company claims it is single-use, with a nature-friendly non-lithium battery, for easy disposal.
The real-time sensors provide proactive control through a contactless operation. The company says customers can simply 'Stick & Go' with no courier scans of manual reporting required. The sensor has configurable business logic so can offer a tailored solution and Points-of-Interests (POI).
The user of the system can mark POI on the map, these can be an airport or a warehouse. An alert will be received once the label is located in any specified POI The label features global connectivity through its pre-printed iSim card, as well as a seamless flight mode, being made of safe materials and approved by airlines.
The printed battery is made using non-hazardous primary Zinc Manganese (Zn-MnO2) which contains a wireless module. It is specified as Rohs, REACH disposable (WEEE Directive 2012/19/EU) The device has a maximum operational lifetime of 12 months in optimal conditions.
Features include: Package in motion/static; Temperature tracking (report outside of pre-defined thresholds); Seal open (consumption/tamper); Shock/Impact; Temperature logging and can be used for ground, air and sea logistics. The Sensos label can be stored at temperatures between -20°C to 40ºC with operating temperatures of -20°C to 60°C.
This article was created in collaboration with AIPIA (the Active and Intelligent Packaging Industry Association). Packaging Europe and AIPIA are joining forces to bring news and commentary about the active and intelligent packaging landscape to a larger audience. To learn more about this partnership, click here.