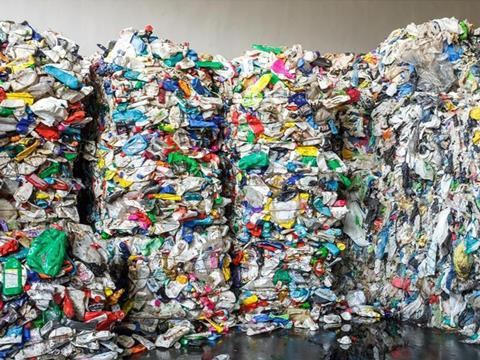 Industry groups and NGOs have responded to the European Parliament's vote in favour of stricter control measures for waste shipments and a ban on exporting plastic waste to non-OECD countries.
Aiming to protect the environment and human health, the proposal includes banning shipments of all wastes destined for disposal within the EU (except if "authorised in limited and well-justified cases") and would require waste shipped outside the EU to be managed in what it describes as an "environmentally sound manner."
The EuRIC (European Recycling Industries' Confederation) said the proposal has both positive and negative repercussions for plastics recycling: "While many adaptations will facilitate recycling within the EU, some measures on exports including the ban on all green-listed plastic waste entries exported to OECD and non-OECD countries outside the EU and EFTA will instead hamper European recycling."
In a letter, it called on EU decisionmakers to consider five actions from the European plastics recycling industry, including harmonised EU end-of-waste criteria for plastics as soon as possible; proportionate export rules for processed high-quality recycled plastics fully aligned with WTO (World Trade Organisation) law and the OECD legal framework; and harmonised revocations grounds for pre-consented facilities.
The FEAD (European Waste Management Association) has also shared its own concerns. It welcomed the "extension of confirmation deadlines for facilities to two working days, the acknowledgment of persistent and normalised delays in the authorisation processes, and the obligation for all Competent Authorities to accept documentation in English."
However, it went on to add that although illegal waste shipments and waste-related crime have attracted public attention and "associated them with the need to end waste shipments altogether", illegal practices mean that "the existing rules are circumvented, so that bans and increased financial and administrative burdens will not end such damaging practices, hampering the circular economy instead."
Claudia Mensi, FEAD president also said this was "a missed opportunity for needed improvements, such as the reinforcement of pre-consented facilities."
In contrast, the Rethink Plastic Alliance "applauds" the proposal. Lauren Weir, senior ocean campaigner at the Environmental Investigation Agency, said: "Great joy, the European Parliament's decision today supporting a phased-in extra-EU/EFTA plastic waste export ban is welcomed."
"Many of us across the world have worked tirelessly to highlight the unparalleled body of evidence and real-world experiences that demonstrate that the plastic waste trade is harmful and exploitative. Another important step to ending waste colonialism."
Theresa Morsen, waste policy officer of alliance member Zero Waste Europe stated: "The European Parliament has shown today that it takes protecting member states from illicit waste shipment seriously. We are happy to see this strong stance on intra EU shipments of plastic waste that seeks to finally make the EU compliant with international rules set by the Basel Convention. Now the member states have to honour this ambition."
The BIR (Bureau of International Recycling) responded by saying there is a fine line between "applying the proximity principle for wastes, keeping them in the EU, and commercially disadvantaging trading partners outside the EU, denying them resources", adding that "the Parliament recognises the need for improved recycling and waste management capacity within the EU, but does not address how that will be paid for."
Highlighting "the ever-tightening classification of wastes containing persistent organic pollutants", it also mentioned the "accompanying movement restrictions that will lead to pressure on local final disposal operations to irreversibly transform or destroy them."
Ultimately, the BIR apparently "fully supports regulations that aim at the protection of both human health and the environment, but also supports that recyclables can be moved to facilities that are environmentally soundly managed, and that raw materials from recycling should continue to be transported to manufacturing industries in the global circular economy."
The next step of the adopted proposal will be for MEPs to start negotiations with EU member states.