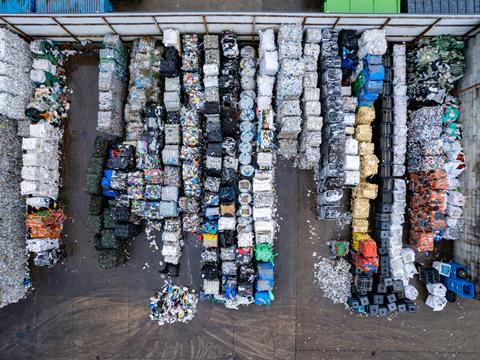 The European Parliament has given its backing to a new law that would ban exports of plastic waste to non-OECD countries, and phase out the export of plastic waste to OECD countries within 4 years.
The EU expects this move, which was adopted with 594 votes in favour, 5 against and 43 abstentions, to boost the EU circular economy, resource efficiency and zero pollution goals.
The proposal argues for the prohibition of shipments within the EU of all wastes destined for disposal, except if authorised in what it describes as "limited and well-justified cases".
According to the adopted text, the Commission would develop uniform criteria for the classification of waste with the aim of ensuring that the rules are not circumvented by clearly distinguishing, for example, between used goods and waste.
The new rules would include digitalising the exchange of information and documents within the internal market. Storing information in a central electronic system would, MEPs believe, improve data reporting, analysis, and transparency.
The MEPs also agreed that EU exports of "hazardous waste" to non-OECD countries should be prohibited.
EU exports of "non-hazardous waste" for recovery would be allowed only to those non-OECD countries that give their consent and demonstrate their ability to treat this waste sustainably. The Commission would draw up a list of such recipient countries, to be updated at least every year.
The Commission says that it would also monitor waste exports to OECD countries more closely with the aim of ensuring that they manage waste in an environmentally sound manner, as required by the rules, and that they do not adversely affect the management of domestic waste in that country.
In addition, the MEPs called for the creation of an EU risk-based targeting mechanism to guide EU countries that carry out inspections, in a bid to prevent and detect illegal shipments of waste.
Other measures proposed in the adopted report include making the requirements to demonstrate that shipped waste is managed in an environmentally sound manner more stringent, and building a partnership with the waste sector, e.g. in the context of climate dialogue and the Commission's annual reports.
Rapporteur Pernille Weiss (EPP, DK) comments: "Fully utilising waste as a resource should be an essential element of our transition to a circular economy.
"I am happy that today we could come together in support of a balanced approach on shipments of waste: it ensures safeguards for human and environmental health, while providing the necessary framework for industry to deliver on our ambitions. I hope that in this way, the EU can become a world leader in the innovative, sustainable use of waste."
The report is scheduled to be adopted during the January plenary sitting and will constitute Parliament's negotiating position with EU governments on the final shape of the legislation.
This announcement follows the recent news regarding proposed revisions to the EU's Packaging and Packaging Waste Directive. These came in the form of plans to introduce new targets aimed at reducing packaging waste, implementing reuse systems, and boosting the use of recycled material across all packaging formats.
In 2020, EU exports of waste to non-EU countries reportedly reached 32.7 million tonnes, representing about 16% of global trade in waste. In addition, it is believed that around 67 million tonnes of waste are shipped between EU countries every year.
Industry responses to follow…