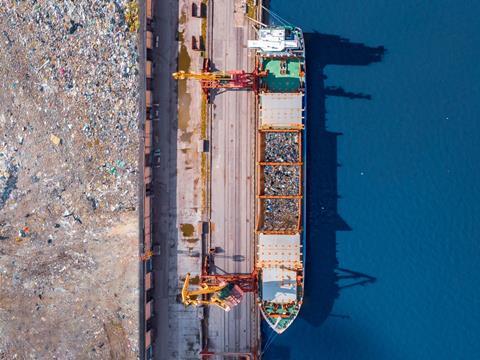 Plastic waste shipments from the EU to non-OECD countries are now forbidden as the European Commission welcomes the agreement to take greater responsibility for EU exports, lift the environmental burden on third countries, and utilize waste as a resource in line with the Green Deal.
Following an agreement by the European Parliament and Council, these new rules aim to tackle increasing amounts of plastic waste, threats to its management, and the environmental degradation and pollution caused by waste exported to third countries. In turn, the reduction is hoped to serve as another step towards a circular economy.
Strict environmental conditions must be met for individual countries to receive plastic waste five years after the rules are enforced, otherwise it will be completely forbidden two and a half years after the new law enters into force. Other waste that is suitable for recycling can only be exported if the non-OECD country has informed the Commission that they are willing to receive, and can sustainably manage, the waste in question.
The Commission says it will monitor all waste exports to OECD countries and intervene if these processes affect the receiving countries. Meanwhile, all EU companies exporting waste outside the EU must ensure that the receiving facilities undergo an independent audit proving that their waste will be managed responsibly.
These measures are expected to 'set the standard' in preventing health and environmental issues stemming from unsustainable waste management in third countries.
Digitalized procedures are simultaneously expected to streamline the shipping of waste for recycling in the EU. This will include the improvement of fast-track procedures for eligible facilities designated by the Member States, allowing waste to re-enter a circular economy within the EU while maintaining the necessary level of control for these shipments.
Circulating waste for recycling and reuse amongst Member States is set to benefit the EU's transition into a circular economy and enhance supply security for raw materials.
Meanwhile, stronger enforcement and cooperation between Member States are set to crack down on waste trafficking – a development aligning with the new Environmental Crime Directive, which has also been the subject of a new political agreement. Further deterrent sanctions are expected to be taken against participants in illegal waste trade, and the EU Anti-Fraud Office (OLAF) will be directly involved in investigations by Member States surrounding transnational waste trafficking.
The regulation will now be formally adopted by the European Parliament and Council, at which point it will enter operation on the twentieth day after its publication in the Official Journal. In the meantime, the Commission is making digital procedures operational in due time, and reaching out both bilaterally and through multilateral and regional fora to support partner countries in aligning with the new requirements.
This also expects to encourage better waste management and uptake in circular models in the economies of the EU's partner countries.
The European Parliament backed the law earlier this year, setting its sights on a phase-out of plastic waste exports to OECD countries within four years. This was met with mixed reactions from industry groups and NGOs; for instance, there was general support for stricter measures on illicit waste trafficking, but a sense of concern that trading partners outside the EU would be disadvantaged under the new rules.
If you liked this article, you might also enjoy:
The L'Oréal approach to packaging sustainability
The way we talk about plastic needs to change – here's how to get it right
What steps is Apple taking to make its packaging more sustainable?