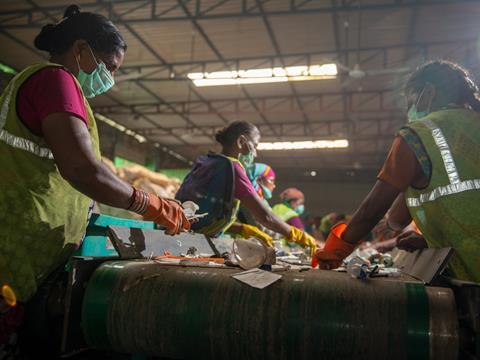 What are organisations in developing countries across the world doing to promote sustainable end-of-life solutions for flexible packaging? The team from CEFLEX tells us more about three innovative projects in this area.
One such example is the ASASE Foundation 'Closing the Loop' project in Accra, Ghana, where over 350 jobs – both formal and informal – are currently supported in two communities. Plastic waste is separately collected by the informal sector and sold to the recycling facility, crushed, washed and pelletized to be sold for reuse in products such as various film structures, household items or building materials.
Since its start in January 2021, the organizers of the Closing the Loop claim to have diverted around 2700 tons of plastic waste from various streams, including from their collection centres, schools where they run educational programmes on plastic waste sorting, as well as monthly clean-ups conducted along Accra's coastline. The replication of this model in two new communities of Accra by the end of 2023 is reportedly in progress.
In Khopoli, Maharashtra, India, a site developed as part of the Huhtamaki Foundation's #CloseTheLoop initiative apparently recycles about 1600 kilograms of post-consumer used flexible plastic waste per day; in a bid to tackle post-consumer waste and deliver a valuable secondary resource material.
The project processes post-consumer waste to create resin with the aim of producing refined compounds that can be used for household products for consumers in India.
The Central Pollution Board of India (2012) estimates that India generates close to 26,000 tonnes of plastic waste a day and a little over 10,000 tonnes a day of plastic waste remains uncollected. A more circular approach, bridging the gap in recycling and reuse of waste material in new products could help increase GDP by 5-10%, according to Mahindra & Mahindra.
Project STOP works hand-in-hand with regional governments to create effective circular waste management systems in high-need areas in Indonesia. The initiative supports cities through a system-enabler approach by providing waste management infrastructure, technical expertise and behavioural change campaigns.
Rather than building traditional linear systems, where waste is collected and simply disposed at landfill, Project STOP also aims to create circular systems, where waste – including flexible packaging – is recycled into new products and the resulting economic value lowers the financial burden of the waste system on the city.
By September 2022 Project STOP claims to have served a population of 278,000, most of them with access to a formal waste management system for the first time. It has created 318 new full-time jobs and has collected 35,000t of waste, of which 4,000t are plastics. This aims to support Indonesia's national government commitments to reduce plastic pollution while reportedly boosting sustainable financing models through governmental and private sector systems, and helping to cultivate a coordinated governance model with clear responsibilities and accountabilities.
If you liked this article, you might also enjoy:
The Lidl approach to packaging sustainability
How did Brazil achieve its 100% aluminium can recycling rate – and can it be replicated in the EU?
Experts have their say on the EU's Packaging and Packaging Waste Directive revisions
A deep dive into the most important packaging sustainability trends and solutions