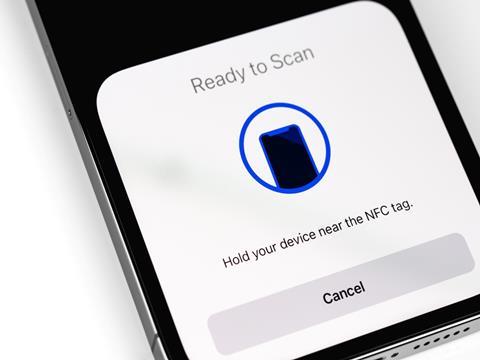 Identiv has announced its portfolio of near field communication (NFC)-enabled status detection tags for advanced IoT security, which feature NXP's NTAG Semiconductors to boost anti-counterfeiting and tamper-proof capabilities.
Identiv's new NFC-enabled tags will apparently be among the first to be available with NXP's NTAG Semiconductors 22x DNA chip devices. According to the companies – which are both members of AIPIA – the portfolio secures everyday objects in mobile anti-counterfeit and authentication applications without a battery.
The sensor solution is aimed at customers in healthcare and pharmaceuticals, retail, smart packaging, supply chain control, and augmented user experiences. The companies add that the tags can be used for applications including closed-loop systems, tamper-proof medications, beverages, and consumables, and are also able to detect specific conditions such as moisture, pressure, and fill level powered by an NFC field.
In addition, the conductive and capacitive capabilities of the tags are reportedly ideal for status-aware applications, such as quality assurance along the supply chain, verifying patient compliance or fill levels for refill orders, and wet/dry sensing for smart wound recovery or skin patches.
The companies say that the status detection products enable advanced IoT security with a Secure Unique NFC (SUN) message authentication feature using AES-128 cartography. SUN reportedly verifies message authenticity and integrity, with mutual authentication further enhancing security by protecting data against unauthorised access or malicious change attempts, according to the companies.
Amir Khoshniyati, VP and GM at Identiv, Transponders Business, comments: "As the demand for status detection and sensing solutions grow, Identiv is proud to expand our strategic collaboration with NXP to bring our customers and the broader market the latest in innovative technologies.
"Whether regulating dosage in an insulin pump or determining when you need to order a refill of your favourite beauty care product, NFC tags with status detection and sensing capabilities improve our customers' products and improve our everyday lives."
Packaging Europe recently spoke with Khoshniyati about Identiv's collaboration with OTACA Tequila on an NFC-enabled bottle that allows consumers to tap to re-order and trace the origins of the beverage.