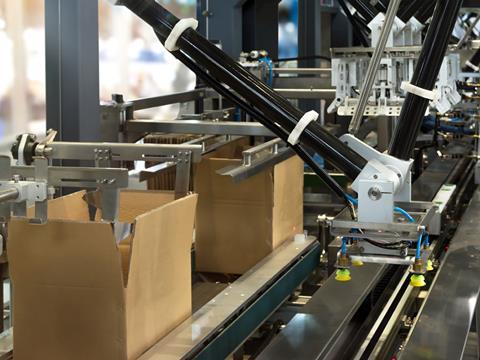 The German packaging machinery industry is in a strong position ahead of interpack 2023, according to the VDMA, which represents more than 3,500 German and European mechanical and plant engineering companies.
Production value grew to 7.3 billion euros in 2022 despite difficult general conditions characterized by ongoing supply bottlenecks and uncertainty in Europe as a result of the Ukraine war.
In 2022, production in the specialist sector of food processing and packaging machinery increased to around 15.4 billion euros, according to provisional data from the German Federal Statistical Office. This corresponds to year-on-year growth of 4%, meaning that the fourth-largest specialist branch of mechanical engineering exceeds the 2019 pre-covid level of 15.3 billion euros.
The German packaging machinery sector - the largest exhibitor group at interpack - accounts for almost half of the industry sales. In 2022, production in Germany is expected to have increased by about 3% to 7.3 billion euros, according to the data available to date. VDMA says that the growth in production could have been even higher for packaging machinery compared to the overall mechanical engineering sector.
However, the most serious impact on the sector in 2022 was again the continuing disruption to supply chains, with the result that a significant proportion of orders from 2022 will reportedly not be converted into sales before 2023. Against this background and as a result of the war in Ukraine, exports in 2022 dropped by 4% below the previous year's level.
Europe - uncertainty causes reluctance to invest
Business in Europe was particularly characterized by uncertainties as a result of the war, same as the development of energy supplies and energy prices.
Deliveries to the EU-27 region dropped by 5% in 2022. Significant increases in demand from individual important markets such as France, Spain and Austria were unable to offset the declines in other important markets such as Poland, Italy and the Netherlands. Deliveries to other European regions decreased by 13% - the drop in deliveries to Russia by 45% and to Ukraine by 68% was partly offset by a significant increase in demand from Switzerland and the United Kingdom.
Overall, European countries accounted for 48% of German packaging machinery exports, 34% of which went to EU countries.
China business with double-digit growth
The second most important sales region for German packaging machinery manufacturers is Asia, with a share of 19%. China is by far the most important market in the region. In 2022, deliveries to the country reached a value of 495 million euros which corresponds to an increase of 16% compared to the previous year.
Against the backdrop of the zero covid policy and the associated more difficult entry conditions and long quarantine periods for foreign assembly and service personnel, this was a remarkable development and clearly shows that packaging technology from Germany is still in high demand in China. The biggest drivers for investment are increasing product safety and automating production processes, especially in the food and pharmaceutical industries.
USA remains the most important market
16% of German exports were shipped to North America in 2022. The USA, which has been the most important export market for packaging machinery manufacturers for many years, showed a sustained propensity to invest in 2020 and in 2021. German shipments to the United States rose by 17 and 15% respectively in the first two covid years to an all-time high in 2021 of over 1 billion euros. This very high level could not be achieved in 2022; where exports declined by 12% to 927 million euros.
The Latin America and Africa regions each accounted for 6% of Germany's foreign trade, the Middle East region for 3% and Australia-Oceania for 2%.
Market prospects and world trade in packaging machinery
Globally, the demand for packaged food products is growing continuously. Growing populations, urbanization, increasing affluence in many emerging countries are factors that are increasing the demand for safe, shelf-stable packaged food and beverages. According to data from the British market research institute Euromonitor International, sales will increase by 14% between 2021 and 2026 to around 5.3 billion tons. The growing market for pharmaceuticals and cosmetic products also represents considerable potential for packaging machine manufacturers.
German companies are not the only ones to benefit from this. International trade in packaging machinery - taking into account the export data from 52 industrialized countries - has been rising continuously for years, reaching a record value of 23 billion euros in 2021. Germany is the strongest supplier country with a share of 26%, followed by Italy with 23%. Other supplier countries are China with 9%, Netherlands, USA, Switzerland, Spain, Japan and France with shares between 2 and 4%.
Despite ongoing difficult general conditions in 2022, German packaging machinery companies are optimistic about future demand. According to an economic survey conducted by the VDMA, the industry expects significantly stronger growth again in the year of interpack, which will be held in Düsseldorf from May 4 to 10, 2023.