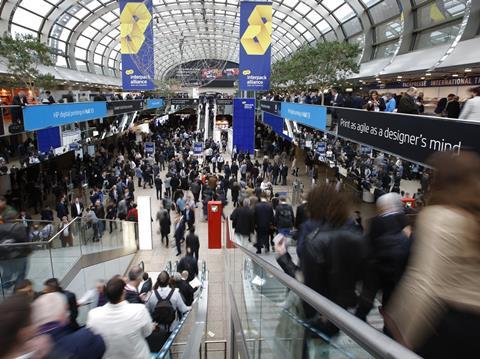 As the world's most important packaging industry event, interpack – taking place at Messe Dusseldorf from 4-10 May – is the place to be this year for anyone with a vested interest in packaging. Here we take a look at some of the key themes we're looking forward to learning more about this year, as well as how Packaging Europe itself will be participating.
interpack is where the global packaging community comes together to learn about and share its most important innovations. The sheer magnitude of such an event can allow visitors to appreciate – if they haven't before – just how reliant each member of the value chain is on the others.
It's also an opportunity to discover the 'next big things' on the horizon and how they can help the industry to meet its priorities for sustainability. As the world's most important packaging industry event, interpack tends to synchronize industry calendars and innovation cycles. Many OEMs have timed major product launches for May 2023, keeping Packaging Europe's journalists very busy in seeking out the most important advances across packaging materials and machinery. This work starts well before the expo itself, featuring a dedicated feed on the website, newsletters and live foretastes of the interpack innovation landscape on LinkedIn.
To help visitors navigate such a huge-scale event covering 18 trade fair halls, interpack 2023 has been organized into seven main areas according to end-use: food, beverages, confectionery and baked goods, pharmaceutical products, cosmetics, non-food and industrial goods. Each of these will host exhibitors from every part of the value chain, from packaging material and packaging producers to processing machinery, smart packaging technologies, labelling & finishing, and everything else that goes into bringing a pack from concept to the end of its life.
Aside from the show itself, don't forget that there will be plenty of other events happening in the vicinity. An example is NVC's PUMA project, which will be conducting a conference on the eve of the show. (For those interested, details can be found here: https://www.en.nvc.nl/events/de-1e-puma-wereldconferentie/)
Key themes
This year, interpack's organizers have identified four big themes to take note of: Circular Economy, Resource Management, Digital Technologies and Product Safety. It's important to note that while each of these things is important in its own right, there are inevitably overlaps between them. (Many digital technologies, for example, can be used to improve product safety or help further the circularity agenda.)
Below, we take a closer look at these key themes. To give visitors some idea of the kinds of innovations they might expect to see, we also give some snapshots of projects we have taken particular interest in over the past year or so.
1. Circular Economy
We all know by now that circularity is the watchword for packaging. In order to meet its waste reduction targets, the industry needs to be putting as many resources back into the value chain at the end of a pack's lifetime as possible. This involves design for recycling, focused on areas such as renewables, monomaterial solutions, biomaterials as well as an increased emphasis on making reusables a more viable part of the sustainability equation. Expect to see examples of these and much more at interpack.
Given the particular scale of the plastic waste problem, a great deal of the drive towards circularity is also focused on improving the recyclability – and recycling infrastructure – of plastics, whether these are traditional, fossil-based materials, or biobased. We've seen plenty of innovation in the area of healthcare packaging – where recyclability can be an issue when it comes to products such as blister packs. For example, Amcor Healthcare's recent AmSky blister system is a recycle-ready blister package with thermoformed bottom web and lidding. Both elements are made from HDPE, which allows for whole-package recyclability.
When it comes to plastics recyclability, not only the package itself but other components such as dispensing systems – the majority of which cannot currently be recycled in existing streams – are being modified to meet the demands of a circular economy. A dispensing solution specifically for the needs of the booming e-commerce sector is Aptar's Future monomaterial pump – a finalist in our 2022 Sustainability Awards. This solution is fully recyclable when paired with a PE or PET bottle.
There is also, of course, an ongoing campaign from CELFEX and its members – among others – to build a circular economy for flexibles, so expect to see much evidence of this at interpack 2023. Over the past year in this space we have seen Constantia Flexibles launch what it claims is a recycle-ready, mono-material polypropylene (PP) laminate with high chemical resistance for pharmaceutical applications; and NOVA Chemicals introduced a mono-material oxygen barrier packaging material which was shortlisted in the 'Recyclable Packaging' category of our 2022 Sustainability Awards.
Bioplastics are also likely to take a prominent place in this year's exhibition; European Bioplastics is exhibiting and many of its members will also be in attendance. Given that the EU still prioritises reuse and recyclability over compostability, we can perhaps expect to learn more about how the bioplastics industry intends to convince EU legislators that it can have a stronger role to play in the circular economy moving forward.
On to renewables: more advanced barrier papers that are recyclable in existing streams have been a major theme of recent years. We have seen many examples from the likes of Mondi with their FunctionalBarrier Paper, to Rotor Print's high barrier ready-to-recycle paper. But to ensure such papers can be scaled up, it is also necessary to have compatible machinery solutions – many brand owners may be reluctant to make the shift to paper because of the potential for costly machinery replacements. Mitsubishi HiTec Paper and SN Maschinenbau have collaborated on a solution that allows the former's recyclable, water-coated barrier papers to be processed on the latter's pouch packaging machines without the need for retrofitting. Look out for more collaborations between machinery and material producers.
2. Resource Management
The world has limited resources. When you combine a lack of materials – particularly good-quality recyclates and sustainable feedstocks – with supply-chain bottlenecks it creates problems for the entire industry. And supply chain issues have only been exacerbated by the ongoing consumer preference for online purchasing, itself accelerated by the Covid-19 pandemic.
The more efficient management of resources will include a focus, among other things, on the switch to renewable energies rather than fossil-based. Plastics based on renewable feedstocks will also come to feature more highly in the coming years, as will (as we have already seen above) increasing the applications for paper in order to reduce our reliance on plastics.
Last year, for example, TotalEnergies launched RE:clic, a new range of low-carbon recycled polymers aiming to reduce the carbon footprint of end-use applications by improving their energy efficiency. Meanwhile, Hoffmann Neopac's BlueMint Steel product, another of the finalists in our Sustainability Awards, is claimed to provide CO2 savings up to 70% in the steelmaking process.
A growing emphasis on reusables will also help the industry to make the best use of resources. It's fair to say that we have yet to find any reuse models that have proven successful on large scale, but there are many promising areas of development that visitors to interpack will be able to learn about. These might include schemes such as Terracycle's Loop system (already widely covered) to individual innovations such as replacing single-use caps with reusable alternatives, liquid dispensing systems to make refills a more viable options for mass consumption, or cosmetic refills. Another important trend in resource efficiency is the shift to waterless formats: a primary product adaptation that eliminates the shipping of water while simplifying the packaging demands and volumes. A prominent example here is Procter & Gamble's shampoo and conditioner bar.
3. Digital Technologies
We've heard about the Internet of Things, but let's not forget that the Internet of Packaging is also on the horizon. Digital technologies – whether RFID, NFC tech, digital twinning, augmented reality or one of many others – are going to increase in future as the market adapts to new realities.
A prominent example of recent years is the HolyGrail 2.0 digital watermarking system to enable automated sorting of packaging and radically improve recycling rates. We recently saw P&G transitioning its laundry brand, Lenor, to shrink-sleeved transparent rPET bottles with digital watermarking, as part of this initiative, in order to enable automatic sorting and enhance recyclability.
Artificial Intelligence (AI) will almost certainly feature at interpack. CO2 AI by Boston Consulting Group is an end-to-end, ready-to-deploy, AI-powered digital solution that it says corporations from all industries can use to quantify emissions accurately — and find solutions to reduce them at scale.
Digital twinning is yet another big topic. Merck KGaA and Gerresheimer have jointly developed a digital twin solution to increase traceability and trust in crucial steps along the pharmaceutical supply chain.
To learn more about the many, many new smart packaging technologies in development across the industry or recently released to the market, why not take a look at the 'AIPIA' section of the Packaging Europe website: https://packagingeurope.com/topics/smart-packaging?navCode=120
4. Product Safety
It might perhaps be more accurate to describe this as the 'product protection' spotlight. There is a clear balancing act here, of course: on the one hand, the package must be robust enough to keep perishable products, particularly food and pharmaceuticals, intact until they reach the consumer; on the other hand, it must ideally be recyclable or reusable, and be designed to ensure the least environmental impact.
But aside from protecting the product and reducing waste, packaging can add value in additional areas. Intelligent packaging solutions (and here, of course, we see a crossover with the 'Digital Technology' theme) can be key here. Techs such as RFID can help with monitoring expiry dates as well as with tamper-proofing, while QR codes can help the consumer feel more empowered by providing them with additional information about the product and its provenance.
There are plenty of real-world examples to choose from – again, far too many to list them all here. HelloFresh, another of our Sustainability Awards 2022 finalists, has introduced a Systematic Cooling Concept (SCC) with the aim of optimizing the efficiency and thermal performance of the recipe box delivery service's packaging.
We're also particularly interested in novel solutions that help to bridge the gap between the need for a sustainable solution while also protecting the product. One such is the edible 'peel' from Apeel Sciences, which can be applied to the outside of fruits and vegetables to create an optimal microclimate to slow the rate of water loss and oxidation.
How is Packaging Europe participating?
Twelve members of the Packaging Europe team will be present at interpack, including five of our reporters and content specialists. However, the Project:interpack begins well before the packaging world descends on Dusseldorf in May. Our mission before, during and after interpack will be a combination of listening, learning and connecting the dots of the bigger picture for our audience across the value chain.
The many of you also traveling to Dusseldorf are likely to come across Packaging Europe staff across the various halls of the Messe. We'll be moderating public panel discussions on various booths and stages throughout the week to discuss the bigger challenges on the packaging agenda. Our crews will also be shooting videos, conducting interviews and live posting from the fairgrounds. Packaging Europe will also have a stand (North Entrance level 1, booth 16). We'll use this as a platform to promote and discuss the environmental agenda ahead of the Sustainable Packaging Summit and Sustainability Awards (taking place 13-15 November in Amsterdam). Everyone is welcome to drop by – rest those tired feet and let us know what matters most from your vantage point in the packaging ecosystem.
Finally, once we all go home we'll digest our collective experience of interpack and attempt to map out the shape of the forest from the thousands of trees we have examined in Dusseldorf. Over the years, each edition of interpack has signalled the industry's step-changes in technology and the marketplace's shifts in emphasis. What will be the meta-stories of interpack 2023? Our Content team will let you know in our extended review.