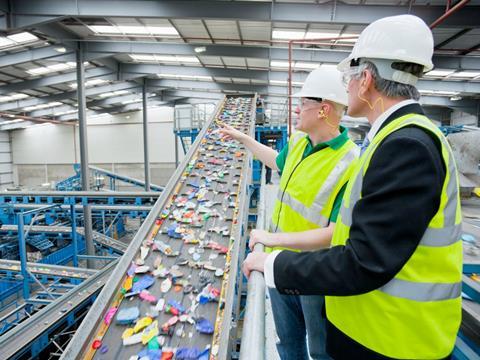 The HolyGrail 2.0 digital watermarking initiative has apparently succeeded in separating food and non-food PET packaging waste streams in an industrial environment, with the development hoping to contribute towards the decontamination of food-grade PET output streams at recycling plants.
Taking place on a PET waste stream at the Wellman/Indorma recycling plant in Verdun, France, the industrial trials utilised a prototype detection module developed by Pellenc ST and Digimarc. It sought to reduce watermarked non-food PET bottles in the stream to less than 5% in line with EFSA guidelines, as well as creating a non-food PET output stream.
This took place on a fully operational line, which had been equipped with the digital watermark detection module, working in standard operating conditions with belt speeds of 3 metres/second and a throughput of 3 tons/hour. It was combined with an NIR unit, which assisted with blowout.
Reportedly, the trials reached an average detection efficiency of 92.1% and sorting efficiency of 88.3%, while two-pass sorting – which is a standard process in recycling plants – reached 95.9% and 95.1% sorting efficiencies respectively. These results are thought to be repeatable on each stream with standard deviations of around 1%, having achieved consistent sorting behaviour in two months' worth of uninterrupted operations.
EFSA guidelines are said to have been met in a single sorting pass, and it is claimed that a non-food PET stream can also be created for circular use.
Following the trial, the prototype detection module – which was validated after semi-industrial testing early last year – will be shipped to MRF Hündgen in Germany for further testing on different post-consumer waste material streams later this year.
Back in February, the Fraunhofer Institute for Process Engineering and Packaging IVV achieved a sorting efficiency of 90% with its tracer-based sorting technology, which aims to separate food and non-food flexible packaging during the packaging and recycling processes.
If you liked this article, you might also enjoy:
McDonald's Director of Sustainability in Europe on the company's approach to packaging sustainability
McKinsey on whether or not on-pack sustainability claims affect consumer spending
Perspectives from industry-leading experts on the EU's Packaging and Packaging Waste Directive revisions
A deep dive into the most important packaging sustainability trends and solutions