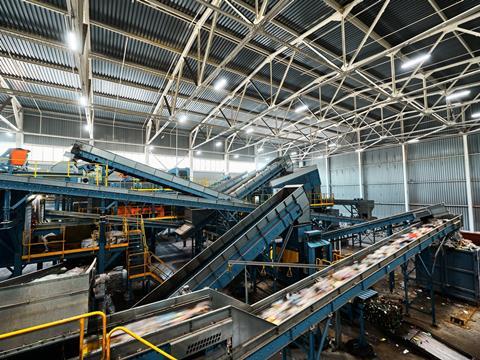 The Fraunhofer Institute for Process Engineering and Packaging IVV has reported that its tracer-based sorting technology – designed to distinguish flexible food packaging from its non-food counterparts during the packaging and recycling processes as part of the EU-funded CIRCULAR FoodPack project – has achieved a sorting purity of over 97% and a 90% sorting efficiency.
The project aims to facilitate the recycling of flexible food packaging and utilise various processing technologies to ensure that the consequent recyclate is suitable for direct food contact applications. Some flexible packs currently contain seven or more layers in multi-layer composites developed for safe and protective food-contact applications, with around 2 million tons of such waste reportedly manufactured across Europe every year.
As of right now, most plastic packaging of this kind is sent to landfill or is thermally recycled at end-of-life. EU legislation also restricts the use of recyclates in food packaging due to the possibility of contaminants migrating into the food.
Therefore, the new technology was reportedly tested for feasibility and efficiency last summer, with 800kg of flexible packaging waste mixed in with tracer-based packaging and fed through the tracers. This involves the material-specific coding or marking of the packaging, through which one can use or retrofit the lasers in conventional recycling processes to identify one pack from another.
The testing process is said to have resulted in a 97% sorting purity and 90% sorting efficiency, with the solution's special purification steps thought to detect and remove additives and other foreign substances. The elimination of so-called volatile organic compounds (VOCs) in combination with deinking and delamination is also reported to have reached an efficiency of up to 90%.
The tracers are expected to be implemented into packaging systems to reduce the amount of non-food-safe substances at an early stage, as well as into the post-consumer recycling streams to minimise odour, colour, and other contaminants in the recycling process. It is also thought to enable the recover of individual target polymers from multi-layer packaging via selective extraction.
Fraunhofer IVV states that the ultimate goal of the technology is to produce a recyclate share of over 50%, wherein the migration of foreign substances can be prevented by a functional barrier layer.
Another solution from Pellenc ST sought to combine a dual-energy transmission X-ray with machine learning to improve the efficiency of metal and e-scrap waste sorting processes.
Last month, it was announced that the HolyGrail 2.0 initiative had entered its next project phase, in which its digital watermarking technology would be tested for such features as detection, ejection, and purity at three French and German industrial-level testing facilities.