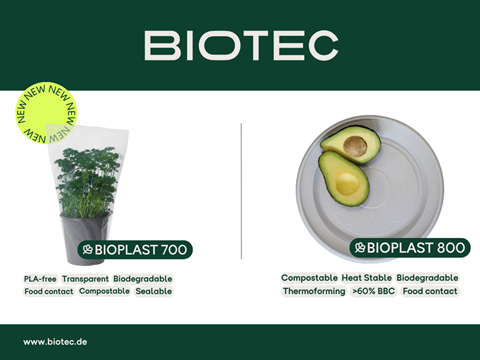 Biotec will display its Bioplast 700 and Bioplast 800 grades to be used in food-grade films and thermoforming applications at interpack 2023.
Bioplast 700 is set to provide transparent films, which can be used to package food and other products for which visibility is important. Its shrink properties apparently enable the material to conform to the shape of the product while protecting it from contaminants like moisture and dust.
Bioplast 800 is designed for the manufacture of thermoformed packaging such as trays and cups. Reportedly, it does not require the use of a hot mould in the thermoforming process to provide resistance against boiling water, enabling converters to produce heat-stable compostable products without changing their hardware.
Industrial trials have been scheduled with various converters in the coming months, according to Biotec.
"We have been working on Bioplast 800 for almost two years now and we are proud to share that we can take this compound to the market," says Erik Pras, global marketing and sales director at Biotec. "We have built up experience with more than 1000 tons of finished products, even in challenging applications like drinking cups for coffee, plates, and trays."
Fibre-based pouches for dry, frozen, and greasy foods will also be on display at interpack following a collaboration between UPM Specialty Papers and SN Maschinenbau to implement the former's heat-sealable barrier papers into the latter's horizontal pouch machines.
AMB Spa will exhibit a range of mono-material films for the dairy and food markets and pharmaceutical industry, including AMB TotalMono PET and AMB Mono PE Flowpack.
If you liked this article, you might also enjoy:
McDonald's Director of Sustainability in Europe on the company's approach to packaging sustainability
McKinsey on whether or not on-pack sustainability claims affect consumer spending
Perspectives from industry-leading experts on the EU's Packaging and Packaging Waste Directive revisions
A deep dive into the most important packaging sustainability trends and solutions