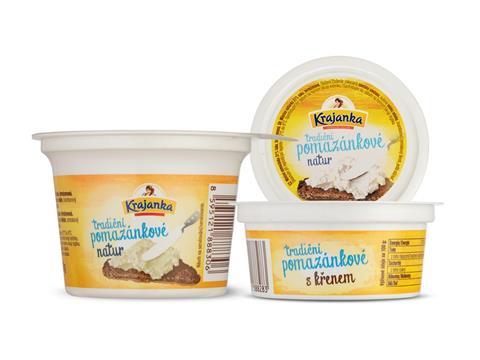 Greiner Packaging offers a range of two-in-one sealing and re-closable lids designed for direct-printed, sleeved and K3 cardboard-plastic combination packaging solutions, which it says is its unique selling point in Czechian and Slovakian markets.
The company says that, when designing food packaging, it considers the lid or seal throughout the process – not just at the end. Greiner Packaging's view is that the lid is an integral part of the product, combining key protective properties with consumer convenience.
First created at AT Kremsmünster in 1996, the resealable lid concept has since been developed to be lighter in weight and use less plastic, according Greiner Packaging. The company adds that the resealable aspect is especially convenient for larger-sized family packs, which are apparently being purchased more and more often by consumers.
The turnkey solution is reportedly popular in Czechia and Slovakia, where it is used for cream butters by four diaries in the former and two in the latter, as Greiner Packaging is a local supplier.
Petr Šimek, sales and marketing manager at Grenier Packagaing, comments: "The unique sustainable solution replaces the use of non-resealable aluminium and uses up to 30% less plastic than alternatives.
"It is also 100% recyclable as it is a monomaterial, with both the cup and lid made from polypropylene (PP).
"The unique solution has been designed to solve issues around hot-filling at 65-75˚C, without the cup deforming on cooling.
"Using the sealing and re-closable PP lid on Greiner Packaging's 100% recyclable K3® pack also creates a monomaterial when the cardboard outer wrap – which is made from 100% recycled paper – is removed for recycling."
Earlier this year, Greiner Packaging partnered with Emmi and Borealis to create the CAFFÈ LATTE beverage cup made from chemically recycled PP – a resource only available in limited qualities at present, with Emmi being one of the few food manufactures to have secured a share. The company has also recently supplied a hybrid cardboard-plastic packaging made from 50% recycled PP for Henkel's Somat Excellence 4in1 dishwasher capsules, and collaborated with PET-MAN and Starlinger Visotec to supply school milk in Upper Austria in cups made entirely from rPET.