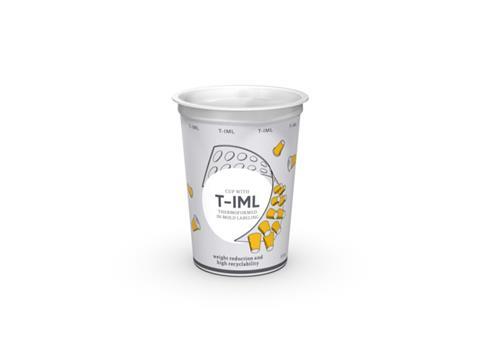 Both the thermoformed cup and IML label by Greiner Packaging are produced in a single process and made of polypropylene (PP), reportedly offering a recyclable monomaterial solution that is lighter weight and suitable for a range of decorative effects.
In the past, Greiner Packaging says in-mould labelling (IML) has typically only been used in combination with injection moulding production technology. The company has therefore developed a thermoformed IML solution for cups.
During in-mould labelling, Greiner Packaging inserts a label into the thermoforming mould in which the product is shaped, forming a solid bond with the finished product. The company explains that with this decoration method, shaping and decoration are performed efficiently in a single process.
After an initial investment in a test mould, Greiner Packaging adds that it is now able to manufacture T-IML cups. The cups are available with a diameter of 95 mm and a capacity of 500 mm.
Greiner Packaging also claims the cups offer reduced material usage as less plastic is required for thermoformed cups. Switching from injection moulding to thermoforming reportedly lowers the cup's weight in this format from 15 grams to 11.4 grams, a 25% reduction, which could help to save on emissions during transport.
In addition, both the cup and the IML label are made of PP, according to Greiner Packaging. The company says the T-IML cups are easy to mechanically recycle.
Philipp Maurer, key account manager at Greiner Packaging, comments: "At Greiner Packaging, we are committed to a circular economy and want to take a broad-based approach to making that happen.
"With our new T-IML cups using less material and being readily recyclable, they encapsulate exactly what we hoped to achieve."
Greiner Packaging notes that the sheet used in the thermoforming process can be imbued with barrier properties. According to the company, this can help to extend the shelf life of packaged food and, in turn, reduce food waste.
The company also says that the T-IML allows for high-quality packaging appearance, including matte, rough, glossy, or soft-touch decorative effects.
Maurer concludes: "IML packaging solutions are extremely effective at attracting consumers' attention at the point of sale. On top of their sustainability attributes, that is naturally a real plus."
Last year, Greiner Packaging collaborated with Emmi and Borealis on drinking cups for coffee made from chemically recycled PP.