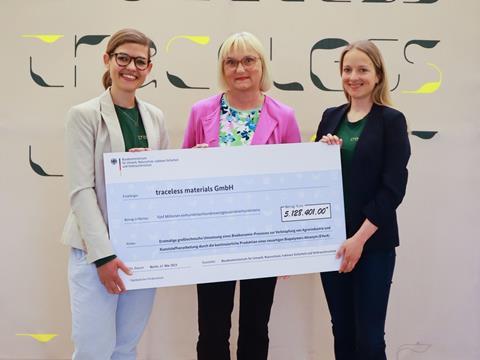 traceless – a female-founded start-up whose plant-based, compostable biomaterial aims to replace 'several thousand metric tons' of conventional plastics every year – has received €5 million in funding to build a demonstration production plant in Hamburg.
The German Federal Ministry for the Environment, Nature Conservation and Nuclear Safety (BMUV)'s Environmental Innovation Program, or Umweltinnovationsprogramm, is providing the funding following a previous grant from the EU's EIC Accelerator.
The biomaterial, also called traceless, sources its plant residues from industrial grain processing. It is produced in the form of granulate and distributed for processing through standard industrial technologies – thus making it suitable in applications such as flexible films, paper coatings, and adhesives.
According to the company, this patent-pending technology is based on natural polymers and is therefore free of potentially harmful substances. Compared to conventional plastics, its production and disposal processes expect to save 91% of CO2 emissions and 89% of fossil energy demand.
Due to its utilisation of agricultural waste, the material also claims to preserve valuable biomass resources, as well as being described as home-compostable and plastic-free.
The demonstration plant expects to bring the technology to industrial scale and contribute towards reduced CO2 emissions, less reliance on fossil resources, and a lower demand for water and agricultural land.
According to Parliamentary State Secretary Dr. Bettina Hoffmann, traceless will benefit both the environment and Germany as an industrial location.
"To make a real contribution to solving plastic pollution and the climate crisis, we need to produce our materials on an industrial scale," explains co-founded and COO Johanna Baare. "The planned demonstration production plant is the next step on this path, and the grant is an essential contribution to its funding."
"The experts from the Ministry of the Environment and the Federal Environment Agency have comprehensively examined whether our technology actually contributes to environmental protection," adds co-founder and CEO Anne Lamp. "The funding approval is a great confirmation of this."
We previously spoke to Ritva Krist, marketing manager at traceless, who provided more detail about the company's goal of uniting the agricultural and plastics industries in collaboration rather than competition, as well as its vision for creating natural material cycles with compostable solutions.
In related news, Kelpi received £13 million in seed funding from Innovate UK's Combined Investor Partnership programme; the money is now hoped to contribute towards the development of its seaweed-based biomaterial coatings for recyclable and home-compostable packaging in the food, drink, and cosmetics sectors.
A Eurostars grant of over €440,000 was also awarded to Saveggy, with which it hopes to enhance its edible coating set to extend the shelf life of cucumbers.
If you liked this article, you might also enjoy:
McDonald's Director of Sustainability in Europe on the company's approach to packaging sustainability
McKinsey on whether or not on-pack sustainability claims affect consumer spending
Perspectives from industry-leading experts on the EU's Packaging and Packaging Waste Directive revisions
A deep dive into the most important packaging sustainability trends and solutions