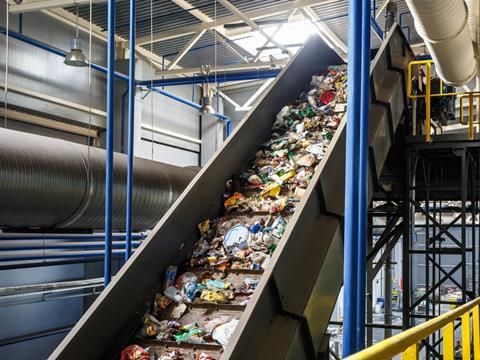 CEFLEX has conducted a testing programme to examine how Near Infrared (NIR) technology can be used to sort multi-layer flexible packaging structures, with the results expected to be shared with stakeholders in September 2022.
CEFLEX says it is currently conducting an extensive testing programme with a network of leading laboratories, universities, and industry experts, with the goal of generating robust and independent data that will be used to update the Designing for a Circular Economy guidelines originally issued in 2020.
The testing programme is part of a collaboration with UKRI, which recently awarded funding to CEFLEX to investigate how flexible packaging can be designed for existing sorting and recycling infrastructure across Europe. According to the organisations, the programme aims to increase understanding of how different materials and elements in flexible packaging structures affect packaging recyclability.
Data from the NIR classification testing, which was performed at Institute cyclos-HTP and the Dutch National Test Centre for Circular Plastics (NTCP), is now being evaluated by CEFLEX. CEFLEX says that more than 200 samples were tested to obtain an understanding of the abilities and limits of NIR sorting technology with various flexible packaging structures, including multi-material-multi-layer (MMML) structures.
CEFLEX adds that the programme specifically aimed to provide an understanding of how the overall NIR classification result is affected by factors such as film thickness (including the lowest threshold of detection), the different shares of materials in an MMML structure, and the differences in layer sequence for both transparent MMML structures as well as for structures with an opaque layer. The programme apparently also investigated the impact of sample orientation, which considers whether the 'inside' or 'outside' surface of an MMML structure is facing up on the sorting line conveyor belt, and differences in surface reflectivity of the packaging film.
According to CEFLEX, key steps included multiple samples of each flexible packaging structure being investigated, for which the NIR spectral data, as well as the material classification, was recorded as they passed through a commercial NIR sorting unit.
For samples containing more than one material, CEFLEX explains that the obtained NIR spectrum was reviewed for any additional spectral information that could point to the presence of minority components besides the main (film) polymer and could allow for a dedicated multi-material classification. This could apparently include the classification of film structures that consist of a combination of PET or PA together with PE, mirroring such multi-material classifications already in use for beverage cartons, which exhibit a combination of the spectra of paper and PE.
Overall, data was gathered on the NIR spectrum, the classification result using the default NIR database/algorithm, the minimum thickness for correct classification, and the orientation dependence based on a comparison of raw NIR data and classification result, CEFLEX says.
Dennis Bankmann, workstream consultant at CEFLEX, comments: "By bringing together leading testing laboratories and the wide representation of industry in CEFLEX, we were able to conduct testing on a large number of well-described packaging structures, in a single consistent approach, while capturing all layers of information, from the 'raw' NIR spectrum that the sorting machine records to classification outcomes. This allows to both refine the understanding of how design decisions impact sortability as well as identify additional potentials for improved sorting."
CEFLEX adds that all stakeholders will have the opportunity to review the results from the testing programme in the form of an invitation-only webinar to be hosted on the 8th of September 2022. The results are set to be shared more widely in the following months.
The organisation says it will conduct further sortability testing, including for Eddy Current Separation and ballistic separation processes. In collaboration with CEFLEX, a group of laboratories across Europe, including Aimplas, HTP Cyclos, Impact Solutions, and Proplast, will also oversee mechanical recycling compatibility testing on a range of polymer materials and elements used in flexible packaging structures such as inks, adhesives, and barrier materials; the focus of these tests will be on PE and PP waste streams.
Earlier this month, CEFLEX announced that it was collaborating with Flint Group to test how incorporating recycled PP into flexible packaging impacts printing and converting processes. The semi-industrial trials are part of CEFLEX's Quality Recycling Project (QRP).