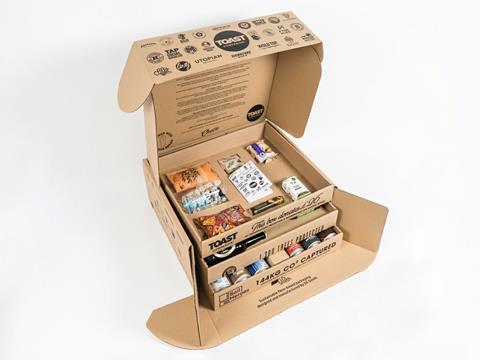 DS Smith says it has designed and manufactured the "first ever" fibre-based box solution to use its Circular Design Metrics, which it will supply to a COP26 initiative led by Toast Ale to highlight the role of food waste in the climate crisis.
Announced in May 2021, DS Smith's Circular Design Metrics are intended for companies to use when evaluating the sustainability performance of packaging. The Circular Design Metrics are focused on supply chain optimisation, 100% renewably sourced materials and recyclability, and a material utilisation rate of 99%. This also includes a recycled content target of 95% and an emphasis on packaging being designed for reuse alongside a low carbon footprint.
DS Smith will supply 2,600 fibre-based boxes designed in line with these metrics to the Companion Series, led by the drinks company Toast Ale in partnership with 25 UK and Ireland-based breweries, including Guinness and Adnams. This COP26 initiative will involve a limited-edition collection of beers brewed with surplus bread, with the target of drawing attention to reducing food waste and, in turn, carbon emissions.
In addition to the Circular Design Metrics, the boxes have also been produced using DS Smiths' PACE principles, which apparently ensure fit-for-purpose packaging and minimum use of fibre through supply chain optimisation with limited CO2 impact. Collaborating with the Ellen MacArthur Foundation, DS Smith adds that its 700 designers have all been trained on how to apply its circularity principles to the company's packaging solutions.
Dave Ellerington, head of design & innovation and business development at DS Smith Packaging UK & Ireland, comments: "Design is one of the essential elements of the Circular Economy and we are thrilled to put our design principles and unique circular design metrics into practice for the first time, in the FMCG industry.
"By employing these metrics, the figures show how well-designed packaging can be pivotal in reducing overall environmental impact, helping companies in a wide range of sectors to reduce waste and pollution, keep materials and products in use for longer and have a clear view of their packaging designs circularity performance to deliver on their sustainability promise."
The limited-edition Companion Series is available to purchase on Toast Ale's website from today. The campaign is aiming to raise £65,000 for conservation, as well as for regenerative agricultural organisations to protect 3.25 million trees in threatened tropical rainforests and sequester 360 tonnes of CO2 in agricultural soils.
Earlier this year, DS Smith revealed that it was exploring plans to use seaweed fibres as raw material in paper and packaging products, as part of its €117 Circular Economy R&D programme. This partnership with the Companion Series for COP26 represents a further commitment by the company to bringing its circularity expertise to many different industries and packaging applications.