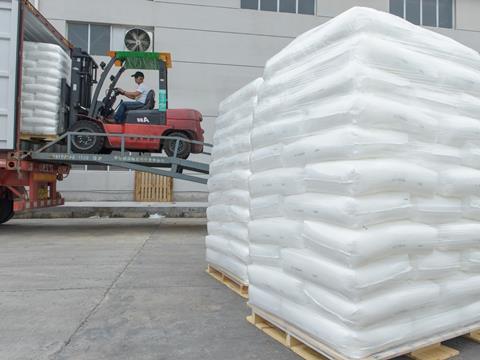 ExxonMobil has announced the commercialisation of its Exceed S performance polyethylene (PE) resins, which it claims can offer simpler and lighter film formulations with less blending required during processing but the same durability for food, industrial, and agricultural applications.
According to ExxonMobil, modern coextruded or laminated film design often involves multi-component resin blends and high layer counts. This apparently means the process of producing these films is complex and, at times, requires a compromise between performance and processability to ensure durability.
ExxonMobil says that its Exceed S performance PE resins can simplify the process of making high-quality flexible plastic films with functional layers to help to maximise performance. The resins can create flatter, less extensible films to increase print and package line efficiency, as well as offer more durability, the company claims.
The resins reportedly reduce the need to add HDPE for stiffness or LDPE for easy processing. The company adds that this enables design for recyclability, with the resins enabling companies to produce mono-material packaging that can be mechanically recycled where programmes and facilities are in place to collect and process plastic films.
ExxonMobil explains that the first three commercially available grades are designed to ensure low melt pressure and high output on film lines. According to the company, the resins are suitable for films used in food, industrial, and agricultural applications.
For example, the company says that large heavy-duty sacks used in industry and agriculture, alongside silo bags for farming, could benefit from the increased puncture, impact, and tear resistance offered by its Exceed S resins.
In addition, for primary packaging, non-laminated coextruded films used in pouches and bags containing liquid, food, or other goods could apparently benefit from the improved toughness offered by the resins during transport.
ExxonMobil adds that PE laminates made with the resins offer improved toughness and bag drop survival, helping to facilitate larger pouch sizes and more aggressive contents. It also notes that hot-filled bag-in-box packaging using the resins exhibits "exceptional" resistance to heat-induced blocking and flex cracking.
Overall, ExxonMobil claims that the Exceed S resins maintain comparable performance at a thinner gauge, produce more durable mono-material products, and can help companies to incorporate higher percentages of recycled content. Convertors can work with an ExxonMobil representative to purchase certified circular Exceed S performance PE resins with Exxtend technology.
Tom Miller, Exceed S marketing manager at ExxonMobil, comments: "Exceed S performance PE resins deliver simplicity without compromise.
"Now converters can get high performance with easy processing, stiffness and toughness with less blending, and resin solutions that can simplify operations and improve package durability. It is a platform of performance polyethylene grades designed to do so much, so simply."
David Hergenrether, vice president polyethylene at ExxonMobil, adds: "The new Exceed S platform embodies our most advanced product and process development informed by deep, long-standing partnerships with our customers.
"The innovation opportunities that Exceed S performance polyethylene offers has already resulted in successful collaborations with over 75 customers globally working on over 100 different applications.
"We look forward to collaborating with our customers on new opportunities to advance their products."
In 2021, ExxonMobil developed a new series of Exceed XP performance PE grades, which allegedly offer enhanced performance for stretch hood, primary packaging, and collation shrink applications. Earlier this year, the company also completed the first commercial sale of its certified circular polymers made using Exxtend technology to Berry Global.