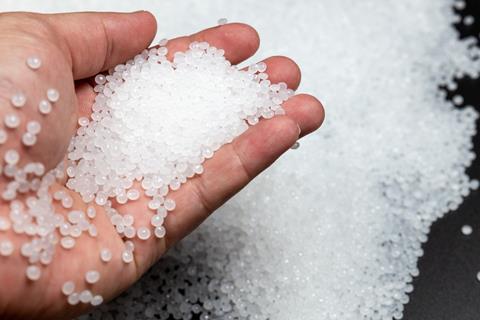 Amcor has announced a five-year deal with ExxonMobil to purchase an increasing supply of chemically recycled certified circular polyethylene in a bid to reach its goal of 30% recycled material across its portfolio by 2030.
The amount of PE supplied to Amcor through ExxonMobil's advanced recycling technology is set to rise yearly, with an annual volume of 100,000 tons expected to have been reached by the end of the five-year period. Amcor intends to apply the material across its global portfolio, and to the healthcare and food industries in particular.
The agreement follows an initial purchase of polyethylene material from ExxonMobil earlier this year. It also contributes to Amcor's pledge to make all its products recyclable, reusable, or compostable by 2025.
"We are committed to a future of more sustainable packaging and are excited to strengthen our ability to meet increasing customer demand for recycled content," said Ron Delia, CEO at Amcor. "We're already working with major brands to support their sustainability ambitions and look forward to offering this innovative content across our global portfolio."
Michael Zamora, senior vice president of Product Solutions at ExxonMobil, added: "Our expanded commitment will make our Exxtend technology for advanced recycling available to even more of Amcor's customers across the globe, and represents an important step towards reaching our shared goal of helping to increase the amount of plastic waste that's recycled."
Berry Global was the first company to purchase ExxonMobil's certified circular polymers earlier this year, which the company intended to use to manufacture containers of food-grade packaging based on a mass balance approach.
TotalEnergies also signed an agreement to purchase Indaver's petrochemical feedstock generated from recycled mixed polyolefins as another contributor to the production of contact-sensitive packaging.