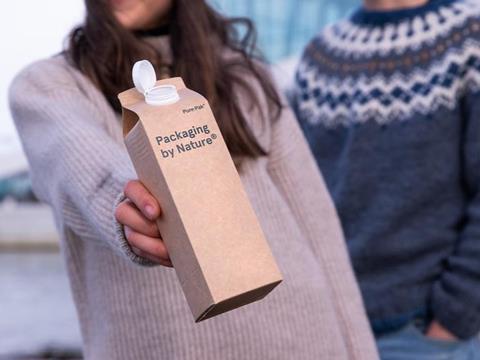 Elopak has announced that its lightweight tethered cap solution, the Pure-TwistFlip, which can be combined with any Pure-Pak carton, will be rolled out to customers.
Announced in 2021, the Pure-TwistFlip has been designed so that the closure remains attached to the carton throughout its entire lifecycle. Elopak says that this reduces the risk of the cap being littered.
In addition, Elopak's solution complies with the EU's Single-Use Plastic Directive (SUPD), which has a 2024 deadline for all caps to be tethered.
Elopak claims that Pure-TwistFlip 29i is its lightest screw cap to date, apparently helping to reduce the use of plastics. The cap can be combined with any Pure-Pak carton to create original packaging solutions for customers.
Patrick Verhelst, CMO at Elopak, comments: "We are delighted to share the news that our tethered cap solution will soon be available to customers.
"The Pure-TwistFlip is a fantastic addition to our current portfolio of opening features that meets the tethering requirements of the EU's Single-Use Plastic Directive well ahead of its deadline in 2024."
"As Elopak's lightest screw cap to date, the Pure-TwistFlip 29i also represents a great option for our customers outside the EU who are looking to adopt more sustainable packaging solutions.
"We look forward to supporting those who choose to make the transition in the coming weeks and months."
The cap itself is produced by United Caps. According to Benoit Henckes, CEO of United Caps: "We have an ethos that we are 'better united'. It makes us proud that world-class brands like Elopak recognise our differentiating ability to create breakthrough on the shelf.
"Innovating together on the Pure-TwistFlip meant combining our 80+ years of experience in cap design with Elopak's outstanding packaging concept to bring together elements of usability and sustainability. The result is a tethered closure that performs for today and for tomorrow."
Elopak says that its Pure-Pak cartons are made using renewable, recyclable, and sustainably sourced materials, offering an alternative to plastic bottles. Last year, the company revealed Pure-Pak eSense, an aseptic carton that does not feature an aluminium layer – reportedly reducing its carbon footprint by 28%. Another solution from the company, Pure-Pak Imagine, was launched in 2020 and includes an easy-open feature that eliminates the need for a screwcap.