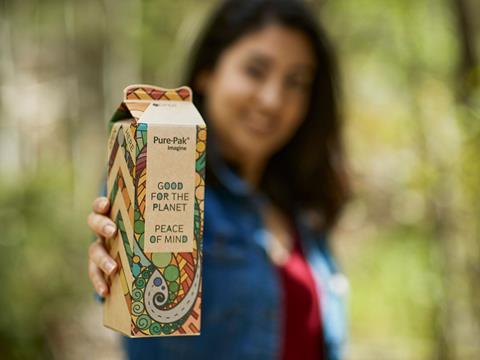 Elopak, a global supplier of carton packaging and filling equipment for liquids, has launched the Pure-Pak Imagine, which it claims is its most environmentally-friendly carton to date.
The new carton is described as a modern version of the company's iconic Pure-Pak carton, designed with an easy-open feature, which saw widespread use prior to the introduction of the screwcap.
The original Pure-Pak carton is a historic pack, and with the introduction of a new top fin shape, Elopak aims to add a further important point of differentiation. The company also hopes that the design of the carton will create recognition on shelves across its markets.
"With Pure-Pak Imagine, we aim to help consumers make conscious environmental choices. The carton's easy opening gives the environmentally-minded consumer a more sustainable pack, with less plastic and more natural renewable materials," says Elopak's chief marketing officer, Patrick Verhelst.
"Increasingly, we see that our Pure-Pak carton system is the natural solution to the global need to reduce the usage of plastic bottles."
"With the launch of Pure-Pak Imagine, Elopak is supporting the critical causes that represent the issues of our times – but the call to action is timeless," concludes Verhelst.
Carbon neutral since 2016, Elopak reportedly uses 100% renewable electricity and says that it has reduced emissions by 70% over the past decade. With cartons manufactured from FSC-certified material, Elopak claims to offer customers "100% renewable" cartons that use wood-based renewable plastics.