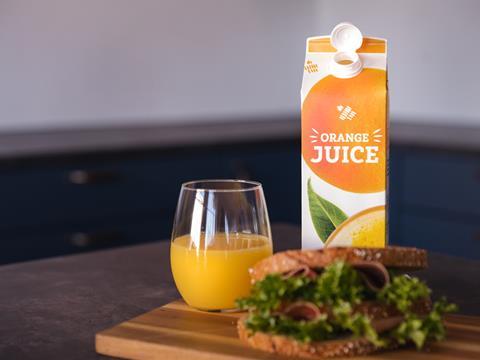 Following its launch earlier this year, Elopak's Pure-TwistFlipTM is being adopted by brands including leading German dairy company NordseeMilch. In this edition of the Spotlight, Elopak tells us more about the rollout of the tethered cap solution.
Earlier this year Elopak announced the rollout of its tethered cap solution - the Pure-TwistFlipTM. This latest packaging innovation is being adopted by brands that are both looking to deliver on their customer's priorities as well as to promote their own corporate values.
Unlike conventional screw caps, the Pure-TwistFlipTM has been designed so that the screw cap remains attached to the carton throughout its entire lifecycle, thereby reducing the risk of it being littered. This conforms with the European Union's directive on single-use plastics, which is due to come into force in 2024 and is aimed at reducing the impact of marine littering.
As well as being recyclable, the smallest Pure-TwistFlipTM for fresh products is also Elopak's lightest screw cap to date, meaning it helps companies to reduce their overall use of plastics. It can be combined with any Pure-Pak® carton to create an original packaging solution that prioritises the environment, safety and consumer convenience. Pure-Pak® cartons are made using renewable, recyclable and sustainably sourced materials to offer customers a natural and convenient alternative to plastic bottles.
Among those to have already adopted this latest innovation is German dairy brand NordseeMilch which began packaging its high animal welfare milk (Tierwohl-Milch) using the Pure-TwistFlipTM in April 2022.
For NordseeMilch, adopting the Pure-TwistFlipTM was a move that reflected the company's wider environmental values, with sustainable packaging also playing an important role in helping it position and market its products.
As one of the innovation leaders in the German dairy industry, NordseeMilch wanted to fly the flag and bring the new tethered closure to the market. The two companies have been working together for over 20 years and Elopak worked closely with NordseeMilch to bring the Pure-TwistFlipTM to the shelves.
More brands are now set to follow in NordseeMilch's footsteps and adopt this latest addition to Elopak's portfolio of opening features.
The new Pure-TwistFlip™ cap can be implemented on existing filling lines with relatively little technical and time expenditure. With the professional support of Elopak's on-site team of technicians, it is possible to make a smooth transition to this new generation of carton screw caps.
Research on consumer preferences undertaken by Elopak suggests the transition is a popular one, with shoppers valuing both the environmental benefits and convenience of the Pure-TwistFlip™. Of those surveyed, 67% identified it as their first choice compared to other closures.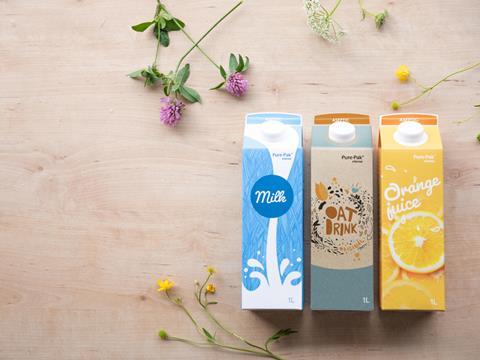 Elopak continues to invest in sustainability-focused innovations as part of the company's growth strategy. Other recent innovations launched include the Pure-Pak® eSense - a more environmentally friendly aseptic carton made without an aluminium layer.
The Pure-Pak® eSense was designed using technology from Elopak's fresh portfolio and extends the environmental credentials of the company's cartons to customers in the aseptic segment. Made with sustainably sourced paperboard and a polyolefin blend barrier, the Pure-Pak® eSense unlocks the opportunity of a renewable aseptic carton and results in up to 50% lower carbon footprint than a standard Pure-Pak® aseptic carton[1].
[1] Based on internal, third-party reviewed cradle-to-gate calculations from the Dynamic Elopak Environmental Performance (DEEP) tool, version11, 2021.
This content was sponsored by Elopak.