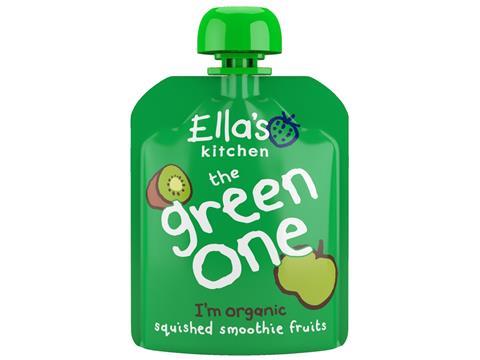 Ella's Kitchen has launched its first mono-material pouch and is aiming to ensure that 73% of its baby food pouches will be fully recyclable at kerbside by the end of 2024.
Its fourth annual 'Good Stuff We Do' impact report states that packaging makes up 28% of the company's carbon footprint. As such, it is seeking new ways to optimise the pack's recyclability and achieve its SBTi-approved, science-based climate targets.
Its mono-material pouch, The Green One, was launched last month. Now the company is seeking to repackage its entire pasteurised range over the next eighteen months, aiming to improve the recyclability of its packaging range by removing additional aluminium. Ella's Kitchen also claims that The Green One's compatibility with the UK recycling system has been proven.
The report goes on to clarify that pasteurised products for children aged 4 months+ will transition into mono-material packaging by the end of next year, but the remaining 25% of pouches for 7 and 12 months+ calls for a mono-material pouch that can withstand a different cooking process. In response, Ella's Kitchen intends to work alongside packaging manufacturers to ensure their future transition into a fully recyclable material.
Its current switch expects to advance recyclability for pouches in the baby food sector from its current figure of 6% to 40% by the end of 2024. Ella's Kitchen is also a member of the Flexible Plastic Fund and joined Nestlé, Taylors of Harrogate, and SUEZ in the Packaging Consortium in 2021.
Ella's Kitchen CEO Mark Cuddigan said: "Positive impact is at the heart of Ella's Kitchen's mission as we strive to be good for tiny tummies, good for the planet, and to do good business. Today, as we unveil our annual impact report, we are proud of the work we have done to demonstrate our commitment to this mission. From transforming our packaging and setting ambitious science-based targets, to championing diversity and inclusion, every step we take embodies our responsibility to leave a lasting legacy.
"We also recognise that the journey is far from over. Our impact report serves as a roadmap, charting our course for even greater impact in the years to come. Ella's Kitchen will continue to lead by example, proving that businesses have a crucial role to play in improving the wellbeing of people and planet. Our vision is to inspire others and create a ripple effect that reaches far beyond our organisation."
In a collaboration with SABIC last year, Ella's Kitchen created a new recycled plastic cap to be utilised in over 3.5 million pouches of its Organic Strawberries and Apples pouches.
In 2023, Nescafé has unveiled what claims to be the first refill pouch for instant coffee. Said to feature a 60% decrease in plastic content compared to the lid of a 200g coffee jar, it is apparently suitable for kerbside recycling in Ireland.
If you liked this article, you might also enjoy:
McDonald's Director of Sustainability in Europe on the company's approach to packaging sustainability
McKinsey on whether or not on-pack sustainability claims affect consumer spending
Perspectives from industry-leading experts on the EU's Packaging and Packaging Waste Directive revisions
A deep dive into the most important packaging sustainability trends and solutions