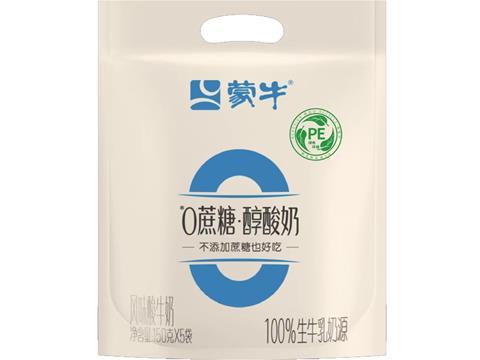 Dow is working with dairy company Mengniu to launch a designed-for-recycling, mono-PE pouch for yoghurt products in pursuit of a circular economy in China.
By implementing Dow's INNATE TF-BOPE resins into the pack, the companies hope to ensure both productiveness and high-quality aesthetics for the pack – as well as its compatibility with responsible recycling and mechanical recycling technology, closing the loop on traditionally hard-to-recycle packaging.
Offering a mono-material packaging solution for yoghurt products also aims to give consumers a wider range of choices when it comes to sustainable packaging.
It is anticipated that the new design – which will debut at the 2023 International Dairy Forum in Hohhot from 4th – 7th August and become available in supermarkets across the city – will contribute towards Mengniu's target of achieving 100% technically recyclable packaging by 2025 and adopting low-carbon packaging across all its product lines.
"This partnership with Mengniu is a milestone for both brands to pioneer all-PE dairy packaging designed for recyclability in China," said Bambang Candra, commercial vice president Asia Pacific at Dow Packaging and Specialty Plastics. "The country's ambition to work towards Zero-waste Cities has changed how it tackles plastic waste.
"This collaboration is a significant step in facilitating recyclability and empowering the possibilities for recycled packaging to be transformed into high-value applications through responsible disposal and appropriate recycling process, reducing our industry's reliance on unrenewable resources. Through our advanced research and development capabilities, we strive to help brand owners like Mengniu to take action and deliver on their sustainability commitments."
A recent collaboration between Plastiques Venthenat, Amcor, Olga, Cedap, and Arcil-Synerlink has resulted in a form-fill-seal yoghurt pot with a reported polystyrene content of 98.5%. Thought to be fully recycle-ready, it hopes to streamline the sorting and recycling processes for yoghurt packaging.
In related news, Ella's Kitchen's first mono-material pouch is a step towards the company's ambition to make 73% of its baby food pouches fully recyclable at kerbside by the end of 2024.
If you liked this article, you might also enjoy:
McDonald's Director of Sustainability in Europe on the company's approach to packaging sustainability
McKinsey on whether or not on-pack sustainability claims affect consumer spending
Perspectives from industry-leading experts on the EU's Packaging and Packaging Waste Directive revisions
A deep dive into the most important packaging sustainability trends and solutions