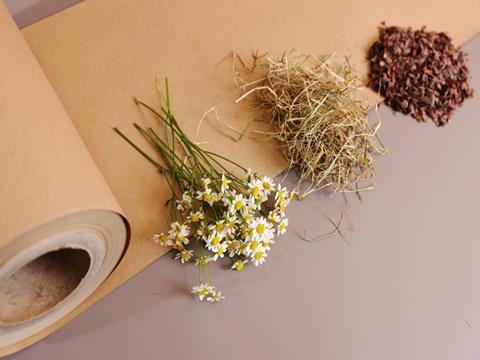 DS Smith is trialling a new process of producing paper packaging from natural materials including straw, hemp, cocoa shells, daisies, and seaweed.
As part of the company's £100m R&D and Innovation plan, DS Smith's Innovation Team is currently experimenting with cocoa shells as a raw material to produce carton board. It hopes to undertake similar projects in the near future, speculating that recycling agricultural waste and annual plants – straw, hemp and miscanthus, for example – would reduce the amount of energy and water used in the production of packaging.
The trial goes hand-in-hand with a recent collaboration with The Research Institute of Sweden (RISE) that tested the potential of seaweed as a sustainable resource. Thought to reduce the paper industry's reliance on wood as a fibre resource, as well as replace petroleum-based packaging with its natural water-resistant properties, the scheme aims to source more sustainable materials and boost the circular economy.
Thomas Ferge, Paper and Board development director at DS Smith, commented, "With the strain on the planet more evident than ever, our research has the potential to lessen pressure on forests and protect the planet's natural resources.
"As well as looking at how we optimise the standard recycled paper fibres that we already use, we're very excited by the prospect of how other resources such as miscanthus, hemp, agricultural wastes and seaweed could be used in the next generation of packaging solutions. This is all part of our goal to make the most of every single fibre we use by 2030."
Other ambitions set by the company include the usage of 100% recycled or chain of custody certified papers each year, as outlined in its latest sustainability report.
Last month, DS Smith partnered with Veetee Rice Ltd to design a fully recyclable and resealable rice pack.
It also announced its findings that 43% of consumers develop a negative impression of companies that over-package their products.