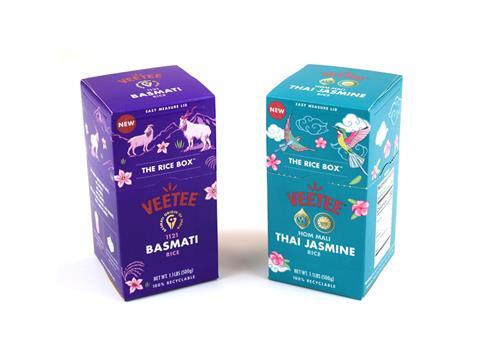 DS Smith has partnered with Veetee Rice Ltd to create a fully recyclable dry rice pack with a box lid that can be removed, used as a measure, and then reseal the pack for ease of storage.
Veetee sought to introduce several new features to their packaging design including developing a premium dry rice pack for supermarkets, replacing plastic bags with a carton board pack and ensuring the carton was leak-proof and stable when being filled on its automated packing lines.
In collaboration with Veetee, DS Smith's technical and operational experts went through a series of design developments. The final product successfully designed-out the need for plastic bags and created a lid that doubled up as a portion measure, which it says is unique in the sector.
The companies hope that the concept of incorporating the portion measure will solve a consumer problem and help Veetee to stand out from its competitors. The new packaging design – which is a fully recyclable fibre-based box –aims to remove more than 50 tonnes of plastic from the market.
Dave Ellerington, Head of Design & Innovation and Business Development at DS Smith Packaging UK & Ireland said: "Reducing the volume of unnecessary plastics in circulation and giving consumers truly sustainable options are two goals that we share with Veetee. We used our unique circular design principles in the development of this solution, to ensure the final product would maintain and optimise materials whilst being fully recyclable.
"Our work with Veetee has once again highlighted why packaging cannot be overlooked by brands looking to reduce their environmental impact. It's really satisfying knowing that our solution will remove over 50 tonnes of problem plastic from circulation, avoiding further waste being sent to landfill or ending up in our environment."
James Brett, Marketing Director for Veetee Group said: "Working with DS Smith to create our market-first rice box has allowed us to achieve our goal of selling a product that is not only premium, but disruptive and sustainable. We're proud to be providing an enhanced customer experience as the only brand to include a portion measure within the packaging's design."
The rice box has been developed with the aim of being able to be filled on Veetee's fully automated packing lines and within its existing footprint to maximise and improve supply chain efficiency.
The one-piece design reportedly enables a high-quality print to be used on the inside and outside of the carton, creating an enhanced customer opening experience. The complex double-skinned construction creates a collar for the lid, whereas most other carton packs are single skinned.