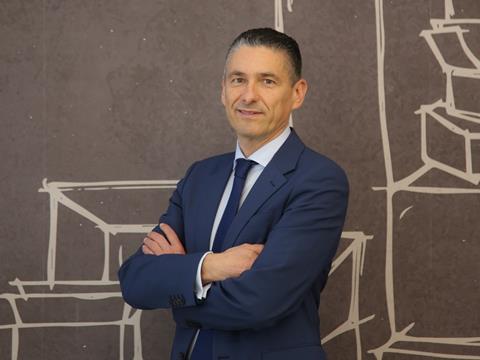 In October 2022, Michele Bianchi, CEO of RDM Group, was announced as the new president of Pro Carton. Since then, the packaging industry has seen such developments as the leak and subsequent announcement of proposed revisions to the Packaging and Packaging Waste Directive, as well as a continuing transition into fibre-based packaging solutions. We caught up with Bianchi to gain insight into his role and his vision for the paper and board industry, both today and in the future.
First, could you tell us more about your background and the key responsibilities in your role as Pro Carton President?
I have been working in the packaging industries my entire career, after completing my Paper and Technology Studies and a master's degree in Chemical Engineering from Pisa University. I started my professional career in the packaging sector in Svenska Cellulosa Aktiebolaget (SCA), which was acquired in 2012 by DS Smith, a leading provider of corrugated packaging. I spent more than 15 years with the company in several senior management positions, including eight years of international experience, prior to joining RDM Group. This experience has enabled me to develop rooted and valuable insights into the dynamics and trends within the paper and wider packaging industries.
As president of Pro Carton, I will be focused on effectively driving synergies between Pro Carton and Cepi Cartonboard, leading them together towards cooperation within an industry that faces not only challenges but also multiple opportunities in the coming years, which is a very exciting complement to my managerial opportunities for RDM Group.
What do you consider the key objectives of Pro Carton? Are there any challenges you expect to face?
My main goal will be to effectively drive synergies to eliminate any overlaps between Pro Carton and Cepi Cartonboard. This will help to maximise the value for all member organisations to secure the best industry representation at an EU level.
A key challenge for us is the current uncertainty created by legislation drafts. We will be working closely with all stakeholders to ensure that scientific knowledge and functional practicalities will win over emotional decision-making so that consumers in Europe will have packaging material at hand which best protects the product and with no harm to the environment.
We are determined to face upcoming challenges by working closely together across company and industry borders. After a very challenging year in 2022, we are confident that we are well-prepared for the future.
Recent social issues such as Brexit, COVID-19, and the war in Ukraine have caused disruption in the supply chain for paper packaging. How are things looking right now?
Historically, the European cartonboard industry has, to a large extent, relied on the local supply of raw materials, such as wood fibres from sustainably managed forests. More than 90% of wood is sourced from European forests, which has helped to mitigate the overall risk of disruptions in the logistics process. At Pro Carton, we believe that increased collaboration within the supply chain will help to drive efficiencies, while the substitution of fossil-based energy sources for renewable alternatives will help to improve the environmental profile of the fibre-based packaging industry.
The fibre-based industry has proven to be resilient in the past and will remain so in the future. We will secure a sufficient supply of cartonboard and folding cartons to meet demand for sustainable packaging material today and in the future.
On that note, we previously covered DS Smith's efforts to produce cartonboard from natural sources such as straw, hemp, and seaweed. Is it realistic to expect that alternative solutions like this one might gain traction anytime soon?
It is good to see innovative packaging solutions developed from renewable resources as they add to a portfolio of fossil-free packaging solutions. We're confident there will be a certain market segment looking for these solutions. However, it is still too early in development to see the full market potential. Our focus remains on wood fibre-based material which is a natural, historically proven material; European forests absorb around 20% of European CO2 emissions and are growing year by year. Additionally, we are using more than 50% recycled wood fibre-based material for packaging purposes. Wood fibre-based material has all the required packaging features that brand owners, retailers, and consumers are looking for.
A recent report by AMI Consulting pointed out that many beverage companies are transitioning from collation shrink film to cartonboard for their point-of-sale packs. In your experience, are there other packaging applications that have taken a particular interest in cartonboard?
The examples referenced have high visibility on the shelves and are an example of where consumers are getting increasingly irritated with the amount of plastics used across different categories.
We have already seen cartonboard used as a dependable, safe, and hygienic packaging option for a wide range of new products, such as Ariel's laundry 'All-in-1 Pods', Procter and Gamble's paper bottle for liquid fabric softener, and Nestlé's 'Smarties Giant Hexatube'. In the latter example, the one-piece construction was made entirely from recyclable cartonboard with an integrated cartonboard lid, similar to Smarties' iconic round tube, but this time produced without any plastic elements.
Additionally, the Smarties 'all-in-one' multipack solution was made from 100% cartonboard, negating the need for shrink film or sticky labels. Brands, manufacturers, suppliers, and designers are all taking note of cartonboard – not only for its environmental credentials but its versatility in design and application.
We also see improvements in the coating solutions made from renewable materials. These coatings are easy to recycle and add functional benefits to cartonboard. These developments will open doors for new applications for fibre-based packaging material in categories which are still dominated by fossil-based packaging materials. As a result, we will see substantial new opportunities for cartonboard in new categories.
Graz University of Technology conducted a study and claimed that cartonboard fibres could be recycled at least 25 times without losing their structural or mechanical integrity, and 4evergreen previously set the goal of a 90% recycling rate for fibre-based packaging in Europe by 2030. Do you think these figures are realistic? Why, or why not?
For our industry, every recycled carton can be used as raw materials for new packaging. We are striving to collect all valuable fibres after use to create new packaging materials. The targets mentioned above are obtainable if all stakeholders along the value chain contribute.
However, we need to see a harmonised and separate collection to further increase the collection rate of fibre-based packaging material in all European countries. We are driving towards this, pressing for fibre-based materials to be collected separately from other materials, such as household waste, plastics, and metal. You can only recycle what you collect. If these requirements are met, we will be able to hit a 90% recycling rate.
We know that the cleaner the material can be as it arrives at the recycling sites, the more we can make use of these highly resilient fibres during the recycling process. This results in new packaging materials being created from the same resources, many times over, further demonstrating circularity. The main conclusion of the Graz study was "25 is not the limit"; the circularity of cartonboard is supported by the strong resilience of the raw materials.
Cartonboard can be a lynchpin of the packaging circular economy, but only if stakeholders from across the industry work together and embrace the opportunities it offers to make a difference. The environmental challenges ahead of us cannot be solved by companies in silos. It takes a cross-industry approach, combining the knowledge and experience of all stakeholders in the value chain to come up with breakthrough solutions.
Where can we expect cartons to go from here? Are there any upcoming developments we should keep an eye out for?
Today, we see an ever-increasing demand from increasingly eco-conscious consumers for sustainable packaging materials. Cartonboard's proven role in the circular economy is improving the sustainability credentials of retailers and the brands they sell – something now increasingly demanded by knowledgeable consumers who are keen to play their part in protecting the environment via greener shopping choices.
Fibre-based packaging also meets all the requirements to support the ambitious targets of the EU Green Deal. Cartons are future-ready. Today.
We anticipate that as cartonboard is recognised for its wide-ranging benefits, we can expect to see more brands making the switch, while a greater focus on applications and materials will help diversify all new applications and ways to apply this sustainable and renewable material.