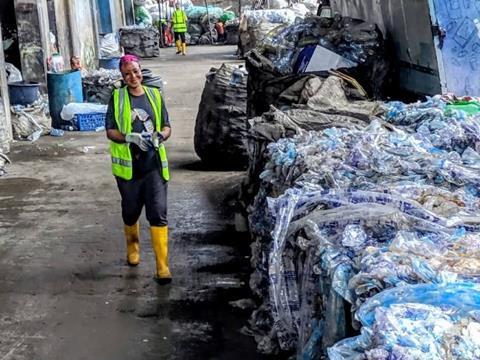 Following a successful pilot phase in Nigeria, Dow has announced that its flexible packaging recycling initiative, Project REFLEX, will be expanded to Egypt and Guinea.
Launched in 2020, the project specifically targets flexible packaging such as plastic water sachets, which are used to clarify and disinfect water sources, and encourages local communities to collect and recycle them.
By 2025, Dow is aiming to divert 10,000 Metric Tonnes (MT) of flexible packaging waste that would otherwise end up in landfill or the environment as part of Project REFLEX. So far, the project has reportedly diverted a total of 520 MTs of flexible packaging waste into mechanical recycling streams and new applications.
According to Dow, the post-consumer recyclate (PCR) that was created in the pilot phase is currently being trialled by a large brand owner for use in some non-food packaging applications. Dow adds that, if successful, this trial will provide an example of a closed-loop system for plastics in Africa and promote the commercial viability of PCR materials from flexible packaging waste.
Dow adds that the project is also looking to create direct employment opportunities for over 50,000 waste collectors in Nigeria, Egypt, and Guinea through the waste management company, Wecyclers.
In March this year, Dow and Wecyclers ran an event in partnership with social impact organisations in Lagos, where members of the community were invited to learn more about plastic recycling and take part in a clean-up exercise on Lagos Island. This event apparently marked the beginning of a grassroots campaign to ensure more people collect and recycle flexible plastic sachets.
Olawale Adebiyi, CEO of Wecyclers, explains: "Through working alongside large supporters like Dow to scale sustainable solutions in tackling flexible packaging waste in Africa, we can help ensure this material retains its value.
"It has been both rewarding and inspiring to see the positive impact of these combined efforts on Nigeria's local business communities through the pilot phase of Project REFLEX.
"We look forward to extending our role in Egypt and Guinea, helping to raise awareness of the socio-economic benefits of sustainable waste management."
The expansion of Project REFLEX into Egypt began in December 2021 with Dow entering an 18-month partnership with the international non-government organisation, WasteAid, which shares waste management and recycling skills with lower- and middle-income countries. WasteAid will work with Dow to advance waste recovery and recycling in Aswan, a city located in southern Egypt.
Dow explains that the expansion strategy for Project REFLEX will involve similar partnerships with public, private, and community-level actors in Egypt and Guinea to increase the collection of flexible plastic.
Sami Mainich, regional director at Dow North & West Africa, comments: "At Dow, we know that a critical part of solving the plastics waste crisis is enabling a closed-loop system for waste.
"Using our expertise in materials science and technological capabilities, we believe that we are best placed to help accelerate the pace of change in developing nations by supporting innovative local enterprises to scale solutions that benefit the environment and local communities.
"The Project REFLEX initiative is a prime example of how this can take shape and grow sustainably especially where flexible packaging applications are concerned."
Adwoa Coleman, Africa sustainability and advocacy manager for packaging and speciality plastics at Dow, adds: "The reason we are so proud of Project REFLEX in Africa is that it addresses the full lifecycle of flexible plastic packaging – from production right through to use.
"Our hope is that the education, materials and support to the local communities and businesses in Nigeria, Egypt and Guinea, and potentially other African markets, received through the programme will result in long-term sustainable collection for flexible packaging.
"At Dow, we see a circular economy thriving in the region if it is inclusive of the people who are already doing this hard work on the ground to enable it and that is exactly what we are trying to do through Project REFLEX in Africa."
Last year, Dow announced that it was expanding its partnership with recycling company, Mr. Green Africa, in Kenya. The collaboration, which was launched in November 2019, intends to advance a circular economy for plastics, including flexibles, in Africa and drive positive change for local communities in Kenya.