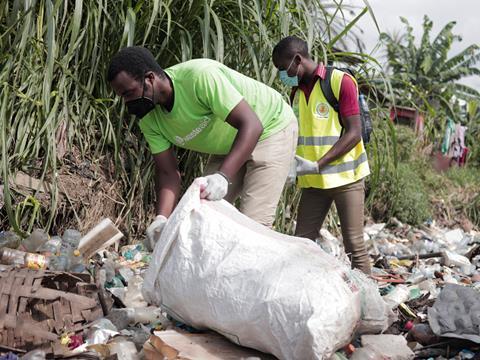 WasteAid is a non-profit that works with communities and policymakers in developing countries to implement waste management and recycling programmes. We caught up with its CEO, Ceris Turner-Bailes, to discuss the work the organisation does, the changing waste management landscape, and the key differences between how EU countries and developing countries deal with packaging waste.
To get us started, could you talk a bit about the work WasteAid does, and break down its key objectives?
Our vision is a world in which waste causes no harm, and where people are empowered to recover its value.
We have four key pillars to our work:
We work with the most vulnerable and marginalised in target communities to provide waste management and recycling training and livelihood opportunities
We support innovation and deliver appropriate systems for first-step resource management to maximise recovery and reuse of waste materials
We foster sustainable social enterprises, social programmes with private sector companies, and local and global networks of waste managers
We undertake evidence-based advocacy to create an enabling environment for safe, sustainable waste management and recycling.
Each project or initiative that we undertake will align with one or more of these pillars.
Could you tell us more about a WasteAid project you've worked on that you're particularly proud of?
WasteAid was one of 6 organisations recently selected to receive funding from UK Research and Innovation (UKRI) and Waste Resources Action Programme (WRAP) to undertake a feasibility study on our circular economy and waste management approach in South Africa.
Working with a local authority and in partnership with a UK academic institution, this project is now focusing on reducing the littering of low-value plastics, identifying and plugging knowledge gaps and supporting operational resources across the waste chain – from collections through to processing; as well as stimulating end-markets for these recyclable materials.
I am particularly proud of the project for a number of reasons, firstly this was a competitive process and the WasteAid team did an amazing job to pull together such a compelling proposal, however, predominantly I am proud that we are really testing and evaluating our whole system approach in partnership with a local community and local authority in Mpumalenga State in South Africa.
On top of this, we are also working in partnership with the University of Portsmouth which is leading on aspects of community sensitization leading to behavior change. WasteAid is all about partnership working and I think this is a fantastic example. The results of this project will really inform what works best and how we can continue to intervene in an ever more impactful way in the countries where we work.
How has the space the company operates in changed since it was founded?
WasteAid was founded in 2015, but I have been with the organisation only since early 2020 which means that I cannot speak for the earlier context. However, what I will say is that we are seeing the issue of Solid Waste Management gaining increasing importance on the sustainability and development agendas. There is increasing recognition particularly within the areas of health and water and sanitation (WASH) that without a specific focus on improving waste management, solutions will be less than comprehensive.
I believe that there is now a much greater understanding of the widespread negative effects of poor or non-existent waste management. As 1 in 3 people worldwide are forced to dump or burn their waste, there are also climate implications. I think we still have a long way to go, but there is now some recognition that burning waste is hugely contributing to the climate crisis. Open burning of waste generates up to 10 per cent of anthropogenic climate emissions, double that of aviation.
We would like to see poor waste management in lower- and middle-income countries recognised as a significant greenhouse gas emitter and barrier to climate resilience and for Governments to recognise that waste management is a cost-effective and achievable way to reduce climate emissions and to determine an internationally agreed standard for estimating the climate impact of poorly managed waste.
We know that a circular economy approach prevents climate change, but would like this to be more widely recognised by policymakers and supported through funding decisions.
However, on a positive note we are also seeing more and more companies seeking to fund meaningful work through their CSR/ESG strategies and as an organisation our donor portfolio is growing and diversifying. We have recently had a hugely successful partnership with global packaging company, Huhtamaki Group working in India, Vietnam and South Africa developing our circular economy network approach.
This brilliant corporate partnership helped us to support 36 entrepreneurs in 3 countries, share knowledge, expertise and training with network members and bring together those active in the waste space in each of these locations. At the same time, we were able to engage with a number of Huhtamaki staff in the different locations.
We also have similarly impactful partnerships with organisations such as Dow Packaging in Egypt where we are developing a programme around flexible plastics and a longstanding partnership with Bunzl Plc currently in South Africa and Cameroon.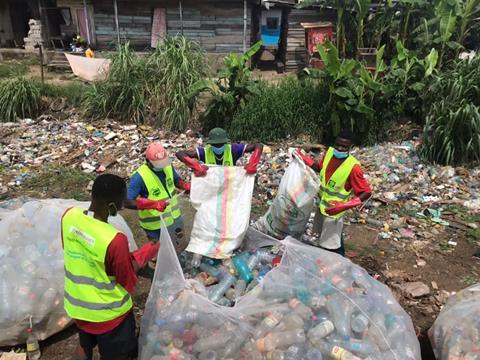 We have a good idea of how recycling and waste disposal systems work in the EU, but I wonder if you could give us some general insights into how these structures work in the territories you operate in. What are the major differences?
The major difference between the EU and many of the countries in which we work is simply that there is no municipal waste collection service and no established recycling system which means that waste either ends up in landfill or is burned in people's backyards. With no bin system on the streets, a lot of waste also ends up collecting at the side of the road, polluting drains and attracting flies and vermin further risking the communities' health.
Waste is not regularly at the top of policy agendas, although it would be wrong to say that this is an entirely forgotten issue, most government representatives, local authorities and community leaders that we have met are extremely engaged in trying to solve the issue, but with a lack of central funding and technical expertise this is an uphill struggle for them.
Obviously, in business districts and in more affluent neighbourhoods private waste collection systems operate, although again much of the waste simply ends up in landfill. What is evident is that the private and informal sectors have moved into the waste space to fill the service gap and there is some fabulous work being done.
It is in this space where WasteAid is predominantly operating – looking at ways to support and facilitate better services through training and knowledge transfer, working in partnership with local authorities, providing business incubation services and raising awareness of waste management issues.
Two recent examples of our work are firstly WasteAid is working to support nascent waste-preneurs through its programmes whether that is constructing and supporting a Plastics Recycling Facility in Douala Cameroon (where none previously existed) and offering technical and business training to waste collectors there as well as ensuring end markets for the recycled plastics.
Secondly, WasteAid has developed a Bunzl Plc Challenge Fund in one of Johannesburg's townships, partnering with a youth empowerment organisation we are offering enterprising young people from a township with no waste management services and who are active in the waste and recycling sector life skills and business training. At the end of the training programme seed funding will be offered to those eligible to help to develop and scale their micro enterprise.
On a regulatory level, how are the governments of the countries you operate in responding to issues around packaging waste? How closely do you work with them?
We are seeing a range of policy responses across all the countries in which we operate and encouragingly all of them have the circular economy at their foundations. In South Africa, India and Vietnam Extended Producer Responsibility is either incorporated now as law or is in a similar consultation phase as it is in Europe.
One role for WasteAid could be to support governments in making informed choices as to where to invest the funds that come through the EPR schemes. In Mpumalenga for example the local Municipality welcomes our work in the province as it provides them with data and evidence as to what works to drive better segregation, separation and recovery of waste streams which they can leverage when in discussion with federal government.
We also support national efforts to improve waste management systems. In The Gambia we are a stakeholder in the National Dialogue for improved waste management and infrastructure. We were honoured to host the Ministry of Environment of The Gambia in a Panel discussion at COP26 in Glasgow in November 2021.
It is critical that our work supports state efforts both at national and local level but also as WasteAid we can bring in a wider private sector/entrepreneurial voice as well as ensuring that any policy changes support the poorest on the waste value chain.
A large part of the work WasteAid does centres on addressing the causes of packaging waste. Parts of the European packaging value chain continue to export waste to developing nations – what are the effects of this, and how can we put a stop to it?
At WasteAid we deal with waste and the waste crisis wherever we find it and help to support and facilitate locally appropriate systems to deal with it in the countries where we work. We don't look too closely into where the waste originated from, that said the vast majority of the waste we deal with through our programmes is generated in the countries where we work. Whilst we would never support shipping waste to countries that cannot manage it, this is not an issue that we tackle as an organisation.