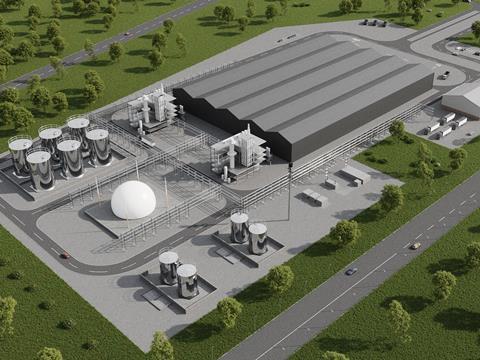 Mura Technology has announced plans to construct a new advanced recycling facility at Dow's Böhlen site in Germany, which the companies claim will be the largest facility of its kind to date in Europe with a potential capacity of 120 kilo tonnes per annum (KTA).
According to Mura and Dow, the project is targeted for a final investment decision by the end of 2023. The Mura facility at Dow's site in Böhlen, Germany, is expected to be operational by 2025 and will reportedly deliver approximately 120 KTA of advanced recycling capacity at a full run rate.
Dow and Mura say the planned facility builds on their ongoing partnership, first announced in 2021, with the companies aiming to build multiple advanced recycling facilities in the US and Europe to add as much as 600 KT of aggregate capacity by 2030. The companies initially worked on a project to construct the world's first plant using Mura's HydroPRS advanced recycling process; located in Teesside, UK, it is expected to be operational in 2023 with an initial 20 KTA production line.
Dow and Mura claim that the Böhlen site would enable a significantly larger capacity for plastic waste and considerably increase the supply of what the companies call circular feedstock to the industry. The companies' plan to construct multiple advanced recycling facilities will apparently allow Dow to become the largest consumer of feedstock derived from plastic waste, which would otherwise be incinerated or sent to landfill, for polyethylene (PE) production globally.
According to the companies, the new facility will enable Dow to produce in-demand recycled plastic for global brands, including for high-end sensitive markets like food and medical applications. Dow says that the advantages of having the Mura facility co-located at its Böhlen site include a reduction in the cost of scaling advanced recycling, while potentially reducing carbon emissions by minimising the transportation of the offtake and because the gas from the process can be converted back to plastics.
Mura's HydroPRS (Hydrothermal Plastic Recycling Solution) advanced recycling process uses supercritical steam to convert most forms of plastic, including flexible and multi-layer plastics, back into the original oils and chemicals from which they were made. Mura says its technology allows the same material to be recycled repeatedly.
Diego Donoso, president of Dow Packaging & Specialty Plastics, comments: "We continue to increase Dow's capacity to use recycled content as feedstock, and continue to invest in the most effective technology available to enable our circular business model for plastics.
"The diversification of our feedstock slate and decarbonization of our assets will enable the achievement of Dow's goal of a sustainable, low-carbon future, and meet strong and growing customer demand for circular polymers. This will be a significant step forward to decrease our dependency on virgin fossil-based feedstocks."
Steve Mahon, chief executive officer at Mura Technology, adds: "Combating the global plastics crisis requires innovative solutions which can drive a circular economy. Mura's collaboration with Dow has led to the largest commitment across the industry to date, showcasing the urgency from industry leaders to adopt scalable solutions such as HydroPRS that will transform the plastics industry worldwide.
"Dow's continued support for Mura Technology has led to a highly financeable commercial arrangement and the deepening collaboration will allow both companies to achieve their stated ambitions in the advanced recycling space.
"Dow's commitments to accelerating a global circular plastics economy is exemplified through deploying HydroPRS at the newest advanced recycling facility in Germany, which will enable us to dramatically increase recycling capacity. Through our collaboration and Dow's extensive global reach, we can accelerate the pace and scale at which a circular plastics economy becomes a reality worldwide."