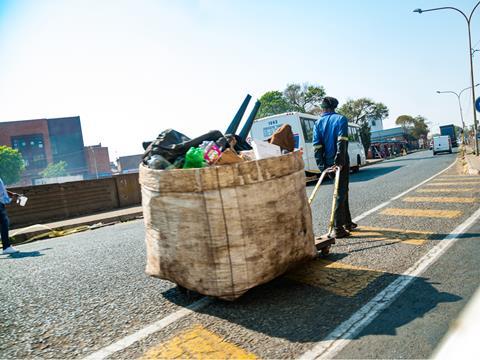 Dow has announced the extension of its partnership with recycling company Mr. Green Africa in an effort to help fight the plastic waste challenge in Kenya and advance a circular economy for plastics in Africa.
Dow says that the partnership, which was originally launched in November 2019, has so far enabled it and Mr. Green Africa to drive positive change in communities in Kenya where a lack of waste infrastructure has led to plastic waste ending up in rivers and informal dumps, as well as creating a market for flexible plastic packaging which has enabled an additional source of income for workers in the informal waste sector.
By incentivizing waste pickers with a higher, stable income and establishing sorting centres that allow waste pickers to bring plastic waste in for payment, and then enabling this waste to be processed in recycling centres, the partnership says that it has not only created a new market for flexible plastic waste, but it has also made sorting materials more effective in the region.
In fact, Dow estimates that approximately 30 metric tonnes of flexible plastic waste - which would not have been collected previously is now processed through Dow and Mr. Green Africa's waste stream every two months in Kenya.
The partnership hopes that the second phase of the project will see it bring on a brand owner partner to close the loop, by enabling the use of the recyclable flexible packaging in a new packaging application and the unrecyclable portions in innovative end-uses.
Additionally, in response to the COVID-19 pandemic, the project has pivoted to using technology to enable residential collection via a new app that has been developed by Dow's technical team and is being deployed locally by Mr. Green Africa.
Through the app, consumers can sort and separate the plastic waste in their homes, before scheduling it to be collected by Mr. Green Africa from their doorstep, who will then process it through the plastic recycling system.
The app has been successfully piloted in several households in Nairobi, so far, with plans to roll it out further in 2021.
This partnership is aligned with Dow's global 'STOP THE WASTE' sustainability target – an initiative that seeks to enable the collection, reuse or recycling of one million metric tons of plastic globally by 2030. Dow has also committed to closing the loop on plastic waste, with a target to enable all its products sold into packaging applications to be reusable or recyclable by 2035.