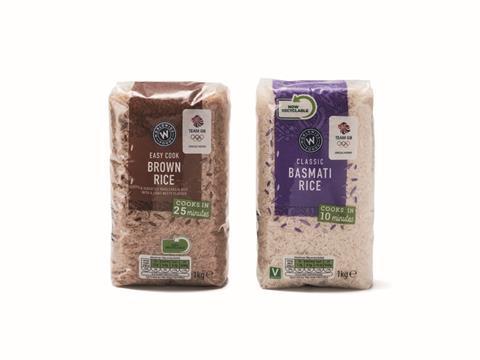 Aldi announces that its own-brand rice will be available in fully recyclable, monomaterial PE packaging developed by Coveris, with the rollout expected across January and February 2022.
The new packaging is a result of a two year partnership between Coveris and Veetee, one of the UK's largest rice suppliers, to launch the packaging for Aldi's own-brand Worldwide Foods 1kg basmati rice and 1kg brown rice SKUs.
According to the companies, the rice was previously packed in a non-recyclable, OPP and PE mixed laminate. The SKUs will now be packaged in Coveris' MonoFlexE monomaterial PE to PE laminate solution, which it says is fully recyclable and will reportedly enable around 30 tonnes of film to enter the soft plastic recycling stream annually.
Using Coveris' extrusion and film science capabilities, MonoFlexE for rice is apparently packed with the same block bottom, FFS format and offers like-for-like shelf-life properties and packing speeds as the former mixed laminate substrate. Coveris adds that MonoFlexE rice packaging is also available with up to nine colour HD flexo print and gloss or matte varnish for on-shelf appeal.
In addition, the packaging artwork has been updated for the launch and will now feature the retailer's recycling logo on the front, with OPRL (On-Pack Recycling Label) recycling guidance on the back.
Mark Robinson, flexibles technical director at Coveris UK, says: "Aligned with Coveris' sustainability strategy NO WASTE, we continue to use film science technology to advance our recyclable flexible films into new categories.
"The launch of MonoFlexE for Aldi rice following a successful, collaborative project with Veetee is a breakthrough for this market and we can be very proud to work with Aldi and Veetee to innovate packaging for improved recycling."
Richard Gorman, plastics and packaging director at Aldi UK, comments: "We are always open to innovative solutions to reducing plastic waste, so we are pleased to work with Coveris and Veetee to launch our own-brand rice in fully recyclable packaging, which marks a further step towards achieving our plastic and packaging goals."
Aldi is aiming for 100% of its own-brand packaging to be reusable, recyclable, or compostable by the end of 2022. The retailer has already removed plastic straws from its own-label drinks cartons, as well as trialled the removal of plastic shrink-wrap from its baked bean multipacks deals and introducing a recyclable inner bag for its cereal packaging. At its Ulverston store in Cumbria, UK, Aldi is also offering packaging-free, loose buy options for staples including rice, which could lead to the development of refillable options in other stores if successful.
Coveris' MonoFlexE packaging for Aldi rice launched in January 2022 for half of the two SKUs, with the remaining 50% of its basmati and brown rice items to switch throughout January and February.