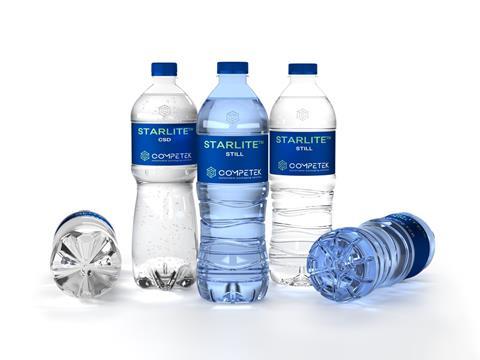 Competek has combined the Sidel Starlite Base Solution for reducing bottle weight with its Supervent technology for decreasing pressure required for blow moulding, offering a bottle production service that reportedly cuts material use and energy costs.
Competek, a collaboration between PET Engineering and COMEP, notes that the Starlite and Supervent solutions are already well established on the market.
Sidel's patented Starlite Base Solution is available for both flat and carbonated products. The company adds that it helps to reduce the weight of the bottle and enhance its performance by increasing its resistance and stability once palletised. It can also be combined and applied to all moulds irrespective of product range, the company explains, as retrofitting means all that needs to be changed of the original design is the base.
Supervent is a technology developed by Competek that uses a system to vents to improve the release of air and therefore reduce the pressure required for blow moulding, according to the company. This apparently offers higher energy savings.
By combining these solutions, Competek says it is possible to produce a lightweight bottle with savings of up to 1gr for 0.5-litre bottles and 2gr for 1.5-litre bottles. The company claims that this could offer potential savings of between €1 and €2 for every 1,000 bottles manufactured, as well as a CO2 reduction of between 2.4kg and 4.8kg per the same amount of bottles.
Additionally, the combined technologies can reportedly be adapted to a range of bottle types and sizes, up to a maximum of 2.5 litres for carbonated products and 5 litres for flat products. The company adds that the solution is compatible with 100% recycled materials.
Competek offers feasibility tests on sample moulds either at its customers' production facilities or at its own laboratory. The goal is to provide a solution that requires few materials and energy, thus improving the bottle's overall environmental footprint.
Competek is a partner of Gentlebrand, providing mould inserts and supervent technologies for its bottled beverages, such as its Aroma concept with an adhesive-free paper label containing seeds that match the flavour of the drink unveiled last year.