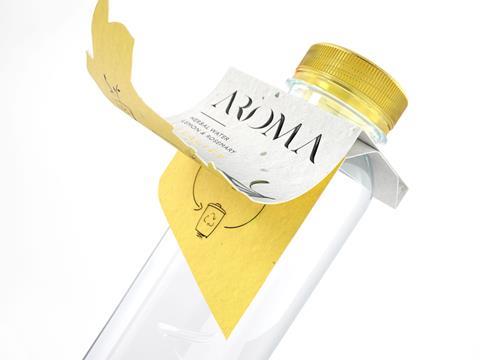 Gentlebrand unveils the Aroma beverage bottle concept featuring an organic paper label that is attached the neck of the bottle without adhesive for easier separation and recycling, and contains seeds that match the flavour of the beverage.
The company adds that it has focused on the issue of bottle labels because it claims they are not always separated and thus contaminate recycling streams due to the inks, glues, and materials they may be comprised of.
The Aroma bottle from Gentlebrand features a label made of organic paper that apparently contains the seeds of the aromatic plants that are used in the beverage inside. Gentlebrand claims that this, combined with a choice of printing inks of vegetable origin, makes the label plantable.
In addition, the label is attached to the neck of the bottle without the need for glue, according to the company. The positioning of the label and its different material composition reportedly signal to the consumer that it is a separate element from the bottle, which can be easily pulled off, encouraging disposal in the correct recycling streams.
Gentlebrand says that the label is large enough to give its customers the space for information required by law, such as allergens, as well as marketing messages. The bottle itself can also be customised with embossed decorations or writing in collaboration with Gentlebrand's partner, Competek, which supplies mould inserts and supervent technologies.
According to the company, the bottle is made of 100% recycled clear PET and is also itself recyclable. The concept, as a whole, was developed with ease of recycling for the Fast Moving Consumer Goods (FMCG) industry in mind.
Developing a holistic bottle design that enhances recyclability and circularity across its body, lid and label remains a challenge for the industry. Earlier this month, the Coca-Cola Company revealed a prototype of its 100% plant-based (bPET) bottle, which it says is ready to begin scaling commercially – although its label and lid, unlike the body, do not yet contain exclusively renewable, plant-based materials. Meanwhile, in 2020, Danone-owned Evian launched a 100% recycled PET bottle (also excluding the lid) that uses engraving technology on the body to replace the label, apparently making it fully recyclable.