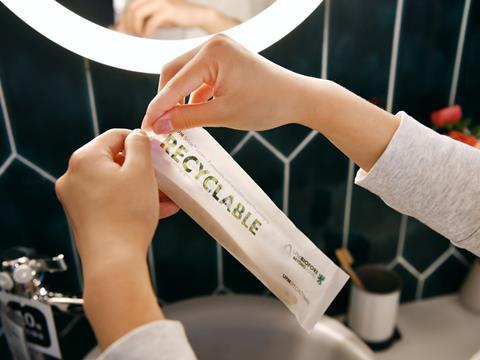 UPM Speciality Papers has unveiled UPM Solide Lucent, a recyclable speciality kraft paper that the company says can be used as a coating base or for single-packs, bags, and wraps, with higher basis weights offered for a range of properties and applications.
According to UPM, UPM Solide Lucent is a kraft paper that is repulpable and designed to be recycled in existing fibre recycling streams. The company claims that the kraft paper is made from virgin cellulose fibres from responsibly grown forests, with FSC and PEFC certification available, and has a fibre content of over 95%.
This apparently leaves room for additional coatings while allowing the final packaging product to be recyclable in current fibre recycling streams. The company notes that UPM Solide Lucent is also compostable in accordance with the EN13432 standard.
UPM adds that Solide Lucent offers high strength, density, and folding properties that help to ensure the mechanical integrity and barrier performance of the packaging during converting and throughout the value chain. The company says the kraft paper also offers "excellent" print results with both flexo and rotogravure printing.
In addition to UPM Solide Lucent's existing basis weights (45 g/m² and 62 g/m²), UPM says that it has added three new, higher basis weights: 72, 78, and 90 g/m². Lower basis weights have the flexibility for smaller pack sizes and higher basis weights offer rigidity and sturdiness where needed, according to the company.
Tommi Heinonen, head of sales at UPM Specialty Papers, explains: "We are always listening to our customers' wishes, and there has been a strong demand for higher basis weights of UPM Solide Lucent.
"Brand owners choose materials with the functional properties, economics and consumer behaviour in mind. Basis weight requirements depend on end uses, functional needs, and market messages.
"Thanks to its outstanding sustainability credentials, this paper is a safe and smart choice for converters and brand owners looking to co-create new products with us.
"The target is also to reduce value chain recycling fees in the long run."
Mika Uusikartano, senior manager of product portfolio management at UPM Specialty Papers, concludes: "Together with customers and partners, we can develop truly sustainable medium and high barrier packaging solutions, matching customer needs in a wide range of food and non-food applications."
Last year, UPM Speciality Papers expanded its selection of recyclable packaging papers with the launch of a new two-sided coated barrier paper, UPM Asendo Pro, which apparently offers advanced grease resistance, moisture resistance, and a mineral oil barrier to help protect dry, greasy, or frozen food products.