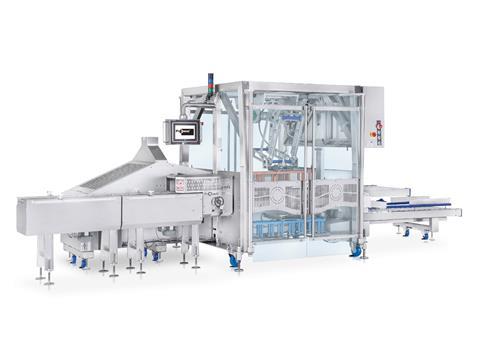 The Proseal CP3 automatic case packaging system, initially developed as a prototype for Angus Soft Fruits, has reportedly handled over 8 million trays since it began operating over a year ago at the company's Salford Priors-based packing house.
The initial CP3 prototype model was developed at the request of Ionut Tirziu, engineering and maintenance manager at Angus Soft Fruits, as the company had apparently been unable to find a suitable case packing solution to meet its requirements as a growing business.
The companies claim that the CP3 case packaging systems are able to handle the high speeds of the Proseal tray sealing machines, using the ProMotion tray infeed system to control the flow of trays and enable them to feed continuously into the machine without stopping. This reportedly allows it to fill cases at up to 120 packs per minute.
In addition, CP3 can handle a wide variety of pack formats, according to the companies. This includes trays and pots in materials such as A-PET, C-PET, and board. The companies add that the machine offers high levels of construction and durability.
Tirziu comments: "As a longstanding customer of Proseal, I know the company's outstanding engineering capabilities and I was able to convince them to turn their skills to create a case packing system that would be able to handle trays efficiently and at high speeds.
"Angus Soft Fruits is leading the market with innovation and efficiencies, which is incredibly important in producing and packing berries.
"Packing innovation is essential to deliver the best quality fruit and efficiently pack to extend shelf life."
According to Proseal and Angus Soft Fruits, the partnership that led the development of the CP3 demonstrates a strong innovation potential. For example, the same partnership led Proseal to produce its fastest GT6 tray sealing machine at the time, which is capable of sealing around 250 packs per minute.
Tony Burgess, sales director at Proseal, says: "We fully understand the many challenges involved in soft fruit packing, particularly its seasonality and therefore the need to maximise throughput, minimise waste and ensure a streamlined operation that gets produce from the field to the retail shelf in the shortest possible time. All our new equipment development work is focused on these requirements."
Angus Soft Fruits also worked closely with Proseal on the ProVision monitoring system aimed at maximising line performance and efficiency. Angus Soft Fruits says that the introduction of Proseal ProVision has enabled it to improve line performance through the capture and analysis of machine data, highlighting factors that may impact personnel and operational productivity, and allowing any inefficiencies to be remedied quickly.
As well as the original machine, Angus Soft Fruits says that it has installed a second Proseal CP3, alongside its existing nine Proseal GT2 and one Proseal GT6eX-Twin tray sealing machines.
Tirziu concludes: "Both ProVision and the CP3 case packaging systems have had the same major impact on our operations as when we installed our first Proseal tray sealing machines back in 2008."
Last year, Proseal announced that, with the addition of AutoCoding Systems (ACS) to the JBT Cooperation, it could offer customers complete end of line packaging solutions, including ACS's modular software portfolio, for a range of applications.