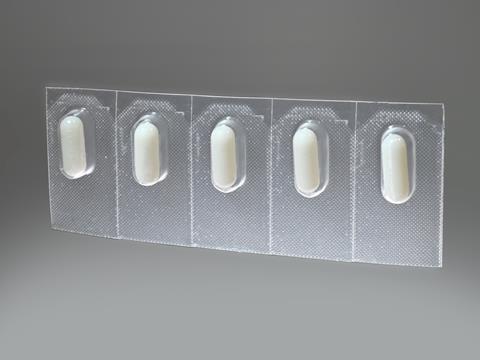 TekniPlex Healthcare is claiming to have developed the world's first fully transparent recyclable mid-barrier blister package.
Reportedly recyclable through polypropylene recycling streams, the mid-barrier blisters consist of a polyolefin blister film and a barrier PP lidding film. According to TekniPlex, this makes it the first combination of blister and lidding to be certified as recyclable.
The new materials also feature barrier protection against moisture. Initial machinability analyses have supposedly been positive, with large-scale tests scheduled for the near future.
"The ability to make transparent barrier blister packages recyclable is a crucial step toward healthcare materials circularity, one in which technical challenges needed to be overcome with extensive research, trials and dedication," said Chris Qualters, CEO of TekniPlex Healthcare. "We are exceptionally proud to be the first materials science company capable of meeting this longstanding market need, and we look forward to showcasing the new blister packages at Pack Expo."
TekniPlex Healthcare will be presenting samples of the packaging at this year's Pack Expo alongside another blister and lidding combination, this one said to be made of fully recyclable polyester – intended for products that do not require barrier protection.
It will also showcase a new lower-weight reinforced coated paper for medical device protection, the company claims. This is said to utilise TekniPlex's proprietary coating formulations and application technology to create rolls that meet sterilization requirements. It is expected to be used for syringes, catheters, and gauzes, amongst other medical applications.
Amcor's recycle-ready HDPE blister packaging system, AmSky, won under the 'Recyclable Packaging' category at the Sustainability Awards 2022.
Meanwhile, Huhtamaki's Push Tab was announced earlier this year – a first-to-market, aluminium-free, mono-material PET blister lid for healthcare and pharmaceutical uses.