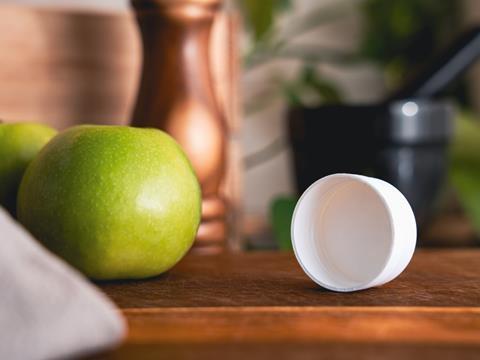 Blue Ocean Closures has partnered with Coca-Cola's EMEA R&D Center in Brussels in a move set to advance the development of its fibre-based screw cap.
The closure is described as both bio-based and recyclable in existing paper streams. In helping bring the solution to market, Coca-Cola hopes to enhance its efforts to develop sustainable packaging and reduce the use of non-renewable materials.
The collaboration is also set to support Coca-Cola's World Without Waste strategy, which looks towards creating 100% recyclable packaging and decreasing litter, amongst other goals.
"For us to succeed with this groundbreaking move away from fossil-based plastics, it is extremely important to have global brands on board with the ambition and ability to truly making a difference," says Lars Sandberg, CEO of Blue Ocean Closures. "We are thrilled to announce our explorative partnership with Coca-Cola's EMEA R&D Center today, focusing on innovation to bring new and more sustainable products to use."
"We are excited to be part of the pioneer community and to help test and develop this innovation during its continued development," adds Daphné Ronat, packaging engineer at the Coca-Cola EMEA R&D Center in Brussels, Belgium. "It fits both our sustainability strategy and our on-going exploratory work with future packaging technologies which may complement other, existing types of packaging in our packaging mix."
Blue Ocean Closures and Glatfelter were previously nominated as finalists under the pre-commercialized 'Recyclable Packaging' category of the Sustainability Awards 2022 for their cellulose-based screw caps made from wood fibres.
Later in the year, co-owner ALPLA Group made a second investment into Blue Ocean Closures with the aim of driving its development of bio-based, biodegradable, and recyclable caps and lids.
Since then, the company has joined forces with Swed-jam and RISE to experiment with bio-based fibre lids from lidded foods and beverages; unveiled what is thought to be the first paperboard tube with a fibre-based closure in a collaboration with Stora Enso and AISA; and worked with Arla Foods to develop a fibre-based cap for its milk cartons.
In other news, Coca-Cola has joined Unilever, GSK, and other Corporate Leaders Group (CLG) Europe members in pushing for the European Union to reduce its greenhouse gas emissions by at least 90% by 2040 with a list of ten principles. These include phasing out fossil fuels and taking an evidence-based approach to carbon removals.
If you liked this article, you might also enjoy:
The L'Oréal approach to packaging sustainability
What steps is Apple taking to make its packaging more sustainable?
How did Brazil achieve its 100% aluminium can recycling rate – and can it be replicated in the EU?
Experts have their say on the EU's Packaging and Packaging Waste Directive revisions