The next of our pre-commercialized Sustainability Awards finalists is a collaboration between Blue Ocean Clousures and Glatfelter, who are utilizing renewable wood fibers to create cellulose-based screw caps. We spoke to Blue Ocean Closures about this entry, which has been nominated in the 'Recyclable Packaging' category.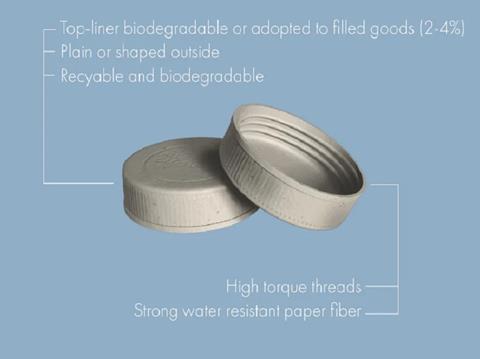 You're a finalist in the Sustainability Awards 2022. Congratulations! To start off, could you summarize your entry in less than 50 words?
Blue Ocean Closures (BOC) and Glatfelter have optimized the use of renewable and recyclable wood fibers and airlaid materials by creating cellulose-based screw caps that are durable, strong, and water-resistant. These biobased screw caps can be recycled as paper and are completely biodegradable in soil and the ocean.
Why do you think the judges were impressed with your entry? Tell us what is innovative about your project and/or about its impact on packaging sustainability.
Caps and lids are among the most littered single-use plastics! Plastic waste is a huge contributor to human pollution and causes a vast amount of damage to the natural environment – especially our oceans. Innovation and creativity are present in both the screw cap's manufacturing process, as well as in the product itself.
Our method of proprietary vacuum press forming is highly energy-efficient, allowing for low production cost and high scalability to support the growing global need for sustainable packaging. These caps are fully recyclable in the paper recycling stream, the system most widely available and currently used worldwide. In the event of the caps not going into the recycling systems, they will decompose within a few weeks.
When and how do you intend to launch/commercialize this innovation?
We are currently working with The Absolut Company (Pernod Ricard) to develop a natural cellulose-based screw cap for Absolut Vodka's iconic bottle. Prototyping and final design of the caps will be completed in 2022, with plans to launch commercially in 2023.
BOC's first production facility is being established in Sweden this summer and it will be used for research and development projects with our partners. The cellulose-based closures will be available on a commercial scale for a variety of applications in 2023. In the next few years (2024 & 2025), our goal is to create an even greater impact by opening additional full-scale production facilities around the globe.
You're shortlisted for the 'Recyclable Packaging' category. What do you see as the key demands, challenges and opportunities in relation to recyclable packaging?
The demand for recyclable packaging solutions has increased and will continue to rise as eco-conscious consumers are opting for goods to be packaged in more sustainable materials. We have been able to meet these demands, by creating closures that can be recyclable as paper. Our unique closures also eliminated the possibility to damage other recycling streams, as we know products are not always sorted correctly. We have been able to successfully do this by using the same fibers that are already present in the labels of products that are discarded in the metal, glass and plastic streams. Our greatest challenge has been creating a product that can be repulped and water resistant. We are addressing this through advanced material design, innovative barrier functionalities and combining fiber types with chemistry that are already food safe and used in paper packaging today. This innovative design allows surface protection, wet strength and hydrophobicity.