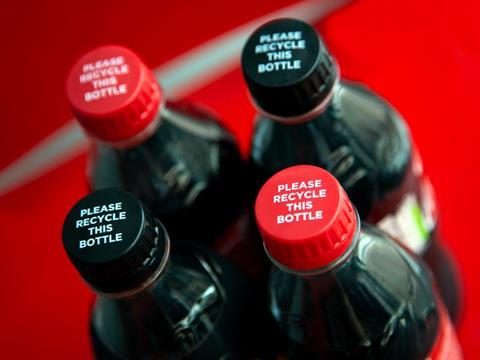 Coca-Cola Europacific Partners (CCEP) has announced an investment into carbon conversion research, which will explore how CO2 captured from the atmosphere could be upcycled to create ethylene, a key component in plastic bottles.
Set to be carried out by researchers at Swansea University, the project will explore new ways of creating materials that could be used in HDPE, for example, which is used to make plastic bottle caps.
The research aims to develop technology capable of using CO2 captured from the atmosphere as an alternative to fossil fuels that are used during the ethylene production process, which CCEP says could offer "a potentially more sustainable way to create plastic packaging."
The project is the latest to be funded through CCEP's innovation investment engine, CCEP Ventures (CCEPV), and follows a series of investments designed that have been designed to help the company meet its net zero 2040 ambition.
Craig Twyford, Head of CCEP Ventures, says: "We're incredibly excited about the potential of this research. We know that making our packaging materials more sustainable is key to decarbonising our business, and technology will play an important role in helping us solve this challenge.
"Through Ventures, we are committed to seeking out and funding solutions that will build a better future for our business, communities and the planet. If scaled, this technology could impact both our fossil fuel use and carbon emissions and help to accelerate a low-carbon future for CCEP."
Professor Enrico Andreoli, Head of Chemical Engineering at Swansea University and Principal Investigator of the project, adds: "We're really thrilled to be working with CCEP to develop next-generation carbon dioxide utilisation technology. We take a practical approach in our research focusing specifically on sustainable applications, and fossil-free ethylene production is certainly a key one.
"We build upon our strong background and expertise in carbon dioxide conversion and with the support of CCEP Ventures, our common goal of delivering low-carbon sustainable plastic can become a reality."
The three-year project will initially aim to develop a highly efficient and productive CO2 to ethylene conversion process, before evaluating scale-up options.
This investment follows previous partnerships to develop and scale cutting-edge climate-focussed technology, including a recent partnership with the University of California, Berkeley (UCB) to develop scalable methods of converting captured CO₂ into sugar, and an investment into CuRe, a technology that seeks to offer a new lease of life for hard-to-recycle plastic polyester waste.
According to CCEP, these investments are intended to make essential raw and packaging materials more sustainable in the long-term, accelerating the potential to reduce some of the largest CO2 contributors in supply chains, while saving material, transportation and logistics costs.
The announcement follows the news that CCEP, The Coca-Cola Company, and seven other bottling partners from around the world have launched a separate $137.7 million venture capital fund focusing on what they describe as "sustainability investments." The fund will reportedly complement CCEP Ventures, which focuses on early-stage businesses, by investing in companies at the point of commercialisation.
If you liked this article, you might also enjoy:
The Lidl approach to packaging sustainability
How did Brazil achieve its 100% aluminium can recycling rate – and can it be replicated in the EU?
Experts have their say on the EU's Packaging and Packaging Waste Directive revisions
A deep dive into the most important packaging sustainability trends and solutions