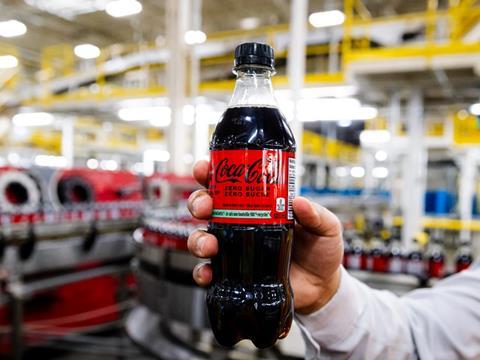 The Coca-Cola Company is transitioning all 500ml sparkling beverage bottles sold in Canada into 100% recycled plastic, excluding caps and labels, by early 2024 to save virgin plastic, reduce carbon emissions, and meet its sustainability targets.
The company claims to be the first to launch multiple sparkling beverages in 100% recycled plastic bottle bodies across Canada. Coke Canada Bottling will produce the bottles at its manufacturing facilities in Brampton, Ontario; Calgary, Alberta; Lachine, Quebec; and Richmond, British Columbia.
All bottles falling under this category will display 'Recycle Me Again' messaging to raise awareness and encourage consumers to continue recycling the packaging at end-of-life.
"This means that no virgin PET plastic will be used for our sparkling 500ml bottles under normal circumstances going forward in Canada," said Kurt Ritter, vice president and general manager, Sustainability, Coca-Cola North America. "We hope that transitioning our 500ml sparkling portfolio to 100% recycled plastic will increase the amount of high-quality, food-grade, recycled plastic available in Canada and, ultimately, enable us to offer more of our brands in this sustainable format."
The shift is predicted to save 7.6 million pounds of new plastic in 2024 and cut out almost 7,000 metric tons of CO2 every year, a reduction that The Coca-Cola Company compares to taking 1,500 cars off the road for one year. It also aligns with the company's World Without Waste goals, in which it aspires to lower its consumption of virgin plastic and utilize at least 50% recycled content in its packaging by 2030.
"We're proud to partner with The Coca-Cola Company on our transition to 100% recycled plastic bottles across Canada," said Todd Parsons, CEO of Coca-Cola Canada Bottling Limited. "We're on a journey to be the leading beverage partner in Canada, and one of the ways we're doing that is by earning our social license to operate by driving a circular economy for our packaging. Every one of these 100% recycled plastic bottles represents meaningful progress on that journey."
A pop-up experiential activation called The Replay Arcade will be set up at Stackt Market at 28 Bathurst Street, Toronto, to mark the announcement. From 10th to 12th November, consumers can bring an empty plastic beverage bottle of any brand and size to be recycled and will receive twelve game tokens and a Coca-Cola beverage in a 100% recycled plastic bottle.
Coca-Cola Philippines recently announced that its Coca-Cola Original and Wilkins Pure brands would be sold in bottles made from 100% rPET, excluding caps and labels. Alongside this transition, a sustainable packaging platform has been launched to educate consumers about tackling plastic waste.
Coca-Cola HBC is also supplying rPET for its 100% recycled bottle portfolio with a new in-house production facility in Romania – a move hoping to enable the company to deliver almost 50% rPET use across its EU and Swiss markets by the end of this year.
If you liked this article, you might also enjoy:
The L'Oréal approach to packaging sustainability
What steps is Apple taking to make its packaging more sustainable?
How did Brazil achieve its 100% aluminium can recycling rate – and can it be replicated in the EU?
Experts have their say on the EU's Packaging and Packaging Waste Directive revisions
Also, if you're interested in packaging sustainability, you will want to attend our Sustainable Packaging Summit in Amsterdam on 14-15 November. The Summit brings together leaders and pioneers from across the industry to align strategically, learn, network, and create a critical mass to accelerate change. You can learn more by clicking here, and you can buy a ticket to attend here.