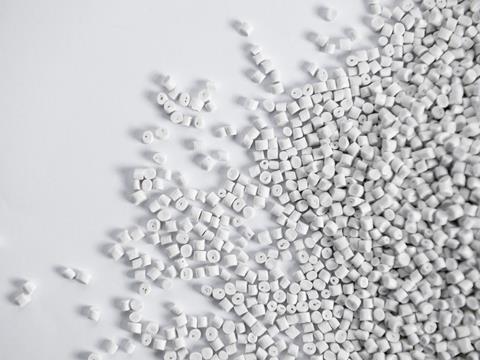 Chevron Phillips Chemical (CPChem) and Charter Next Generation (CNG) are set to produce overwrap film with the former's chemically recycled Marlex Anew Circular Polyethylene, intending to package fresh produce, e-commerce deliveries, and more.
CPChem's advanced recycling programme is said to utilise difficult-to-recycle waste plastics in pyrolysis oil as a feedstock to produce polyethylene with identical characteristics to the original Marlex polyethylene. The process is reportedly certified ISCC PLUS using the free attribution model.
Similarly, CNG's campus in Lexington, Ohio has also received ISCC PLUS certification and aims to utilise recycled materials in its production for such markets as towel and tissue overwrap, fresh produce, protein, e-commerce, and more.
"Together with CNG, we are transforming waste plastics into useful products and demonstrating real-world, commercial scale applications of circular plastics," said Jay Bickett, vice president of Polymers at CPChem. "This collaboration is a great example of the new possibilities unlocked by advanced recycling."
"CNG is excited to bring films using Marlex Anew Circular Polyethylene to consumers," adds Doug Latreille, chief commercial officer at CNG. "With our Lexington campus now ISCC PLUS certified, CNG is well positioned to offer circular products like these films to customers on a commercial scale."
Last year, TotalEnergies announced that it would supply Berry Global with chemically-recycled polymers from post-consumer plastic waste, set to be applied to food, beverage, and healthcare packaging.
In an effort to reach its goal of 30% recycled material across its portfolio by 2030, Amcor entered a five-year deal with ExxonMobil to purchase an increasing supply of certified circular, chemically recycled polyethylene.