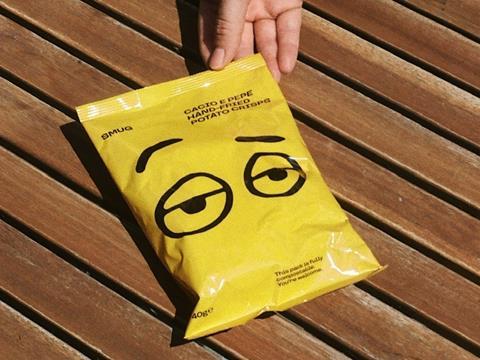 Parkside and food and drink brand SMUG have unveiled what is said to be a 100% compostable crisp packet, reported to biodegrade in domestic compost heaps in less than 26 weeks.
Utilising Parkside's Park2Nature certified home compostable laminate, the pack apparently breaks down into water, carbon dioxide, and biomass in under six and a half months. The companies explain that it is also compatible with industrial composting and can decompose within twelve weeks.
By applying the laminate in a duplex format, the pack claims to offer an oxygen transition rate of below 1.0 – preserving the texture and flavour of the crisps throughout the supply chain.
SMUG is a new venture from food and drink marketing agency Merry Galelli. The minimalist design of its packaging intends to convey a 'trendy, independent spirit', with the hand-fried potato crisps making their UK debut with a Cacio e Pepe flavour. A further two flavours are set to be released in 2024.
Currently, the crisps are being distributed in London and Bristol and can be purchased through the independent food brand retail app DELLI.
"Cutting-edge brands need cutting-edge sustainable packaging to match," said Mark Shaw, sales account manager at Parkside. "We're delighted to work with Merry Galelli on the launch of its innovative SMUG brand crisps.
"Sustainability is playing an increasing role in the purchasing decisions of today's consumers, and so home compostable packaging is ideal for fresh new brands looking to disrupt a highly competitive category."
Stephen Merry, co-founder of Merry Galelli, continued: "We know the quality and taste of SMUG crisps will prove a hit with consumers, so it's vitally important our packaging engages and encourages shoppers to try them.
"Parkside was able to deliver packaging that not only allowed us to create striking, attractive packaging that protects and preserves the freshness of our crisps, but also that is in line with our own sustainability goals and those of our target consumer."
TIPA released its home- and industrially compostable barrier film, 312MET, late last year. Designed for nut and crisp packaging, it sought to negate the need for an additional sealing layer when providing high barrier properties to a pack.
More recently, Parkside and the New Forest Fruit Company have packaged 'plant to packet' dried strawberries in Park2Nature material, while PepsiCo's Walkers brand has trialled 'bagless' multipacks for its Snack A Jacks range in the hopes of cutting down on its plastic use by 86%.
If you liked this article, you might also enjoy:
McDonald's Director of Sustainability in Europe on the company's approach to packaging sustainability
McKinsey on whether or not on-pack sustainability claims affect consumer spending
Perspectives from industry-leading experts on the EU's Packaging and Packaging Waste Directive revisions
A deep dive into the most important packaging sustainability trends and solutions