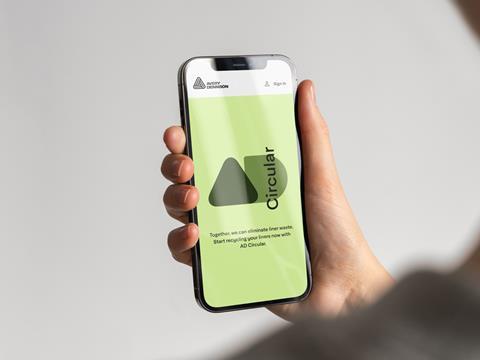 Avery Dennison today announced the launch of AD Circular, a comprehensive program providing recycling of used paper and filmic label liners in countries across Europe.
Through the program, companies can use an online web application to schedule a pickup of used label liners by Avery Dennison to one of its recycling partners.
The web app also provides data in the form of regularly updated analytics and certificates on the amount of recycled liner material, the amount of CO2 emissions they've avoided as a result, and more.
According to the company, the collection and transport of used liners through AD Circular will comply with EU regulations, and the costs will be comparable to existing waste disposal services.
Speaking exclusively to Packaging Europe, Burak Sahbaz, senior director of marketing and sustainability at Avery Dennison, explained how the process works in practice. "AD Circular provides an internet platform where customers can register for the recycling program. Once registered, Avery Dennison provides boxes to collect the liner material.
"When the customer has filled the boxes with PET or Glassine, they can indicate the request for pickup on the dedicated internet platform and Avery Dennison will arrange a pick-up on-site for transportation to the closest recycler."
Once these processes have been completed, Avery Dennison will ensure all paperwork is provided to customer, transporter and recycler in compliance with the local legislation and provides labels to be applied on the boxes for transport.
"Companies in Europe consumed some 470 kilotons of label liners in 2019, yet just over a third were recycled," notes Mr. Sahbaz, citing statistics from AWA, a label industry consulting firm.
"Landfilling or incinerating that many liners, and using all that material only once, is not environmentally sustainable, and runs contrary to consumer expectations and the spirit of European regulations establishing a circular economy.
"By working in collaboration with recyclers, our peer companies, and the brands that use our materials, we believe AD Circular is a big step forward in reducing and eventually eliminating label waste."
AD Circular will launch in eight countries during the first half of 2021, including France, Spain, Belgium, Poland, Denmark, Sweden, Germany, and the United Kingdom. The program will then launch in other European countries in the latter half of the year.
Mr. Sahbaz says the program's ultimate goal is to recycle 75% of the label waste Avery Dennison brings to the European market by 2025. Recycling 1 kilogram of liner avoids the emission of 2.28 kilograms of carbon dioxide, he says.
Material made from recycled liners will be used in new packaging materials and other qualitative products, although Avery Dennison's vision is to eventually facilitate liner-to-liner recycling.
"As a company, we're not content to simply reduce our own impact," adds Mr. Sahbaz. "We're looking at regenerative practices—ways that we can apply what we do well to make whole systems better, from the label industry to communities to the environment. AD Circular is an example of how, working together, we can meet the challenge of reducing label waste."
Companies can learn more about AD Circular and register for the program at label.averydennison.com/adcircular.